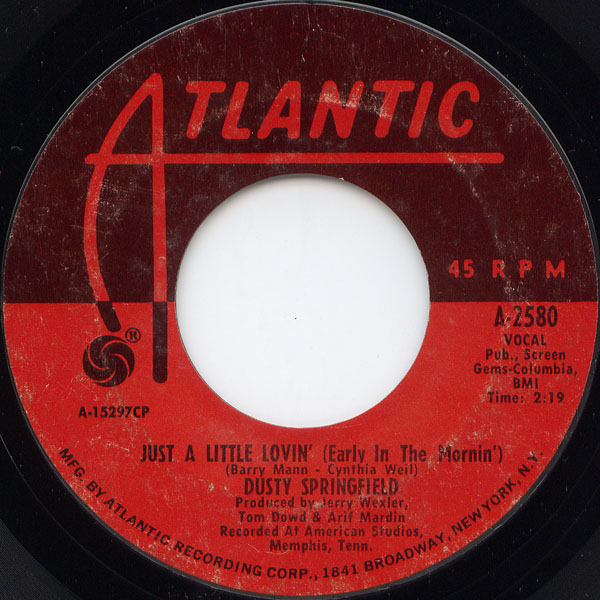 Before I begin, for any of you that are using rdio, I have started putting together a fairly extensive playlist that will serve as something of a companion to this column. Some of the songs have appeared here, others will appear in the future, and some are just songs that I like. If you're interested, you can check it out at Soul Serenade on rdio.
By 1968, Dusty Springfield was dissatisfied with her career. Though she'd had a number of hits, she found herself relegated to the British touring circuit, which meant playing a lot of hotels and cabarets. In an effort to kickstart her career she signed with Atlantic Records, largely because it was the label of Aretha Franklin.
A dream team was assembled, material was chosen, and American Studios in Memphis was booked. Among the cast were producers Jerry Wexler and Arif Mardin, and engineer Tom Dowd. Material for the album came from a who's who of songwriters. In the case of "Just A Little Lovin' (Early In the Mornin')", the songwriters were Barry Mann and Cynthia Weil, who had hits with "You've Lost That Lovin' Feeling," and "We Gotta Get Out of This Place" among many, many others. The musicians were the Memphis Cats, led by Reggie Young and Tommy Cogbill, who knew a thing or two about hit making themselves. Clearly failure was not an option on this project.
The resulting album, Dusty In Memphis, is regarded as a classic in the canon of pop music. The big song on the album was "Son of a Preacher Man," written by John Hurley and Ronnie Wilkins, which became a top ten hit in the US and internationally. "Just A Little Lovin'" was the b-side of the single. Aretha Franklin had originally turned down "Son of a Preacher Man," but a year later, she hit paydirt with her own version. Dusty Springfield, always cursed with an inferiority complex, decided that Aretha's version was better and modeled her own performances of the song on it from that point forward.
For her tenth studio album, the great singer/songwriter Shelby Lynne decided to pay tribute to one of her favorite singers, Dusty Springfield. In January, 2008, Lynne released the very fine Just A Little Lovin'. The album included covers of four songs from the Dusty In Memphis album, among them Lynne's version of "Just A Little Lovin' (Early In The Mornin').
[kml_flashembed movie="http://www.youtube.com/v/XZWEEm6xZvU" width="600" height="344" allowfullscreen="true" fvars="fs=1" /]