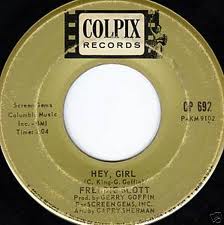 I lived in NJ for a very long time. When the inevitable Jersey jokes would come up, I was well prepared with a long laundry list of the great musicians that my home state had birthed. Now that I'm in RI, there aren't quite as many jokes, which is a good thing, because I don't have my response lined up yet.
I've pointed out before that one of the great things about writing this column is that I am always learning new things about this music that I love so much. So it was with great pleasure that I learned that this week's featured artist, Freddie Scott, was from nearby Providence. So if you've got any RI jokes, bring them on. My list is beginning to grow.
Scott was born in Providence in 1933, and like so many of the great soul singers, he got his start as a singer in gospel music. At first he was more interested in studying for a career in medicine than a career in music, but in 1956 he abandoned med school, and made the crossover to popular music with his first single, "Running Home."
The record didn't gain any traction, nor did several subsequent singles. Scott decided to focus on songwriting instead, and went to work for Don Kirshner's Aldon Music. It was at Aldon that he met fellow songwriters Carole King and Gerry Goffin, who asked him for help with a song called "Hey, Girl" that they were working to pitch Chuck Jackson. When Jackson couldn't make the recording session, Scott cut the vocal instead. When Colpix Records issued the single in 1963, it was a top ten hit on the R&B and pop charts.
When Colpix began to flounder, Scott signed to Columbia, where they tried, without much success, to make a crooner out of him. By 1965, he was without a label. In 1966, along came Shout Records, a new label that had been founded by songwriter and producer Bert Berns. Together with Berns, Scott wrote the intense, slow-burning "Are You Lonely For Me Baby," which topped the R&B charts for four weeks in 1966.
There were other, but lesser, hits for Scott. He traveled from label to label but never managed to find the same success that he had with Berns at Shout. He toured into the '80s, disappeared for awhile, and then emerged with his first album of new material in nearly 25 years, Brand New Man, in 2001.
Freddie Scott died on June 4. 2007, but he remains a favorite son of Rhode Island.
[kml_flashembed movie="http://www.youtube.com/v/fN3ki96eeuQ" width="600" height="344" allowfullscreen="true" fvars="fs=1" /]
Related articles