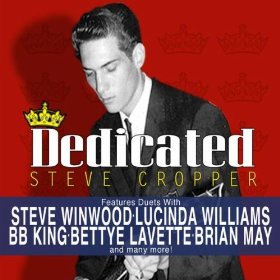 From the opening guitar and drum blast of "Thirty Second Lover" you know realize that Dedicated is the album that Steve Cropper has waited a lifetime to make because it is on this album that he finally has the opportunity to pay tribute to the group that inspired him as a young man.
The 5 Royales were a rhythm & blues group from North Carolina that strung together a series of hits in the early 1950's. The band was led by guitarist Lowman "Pete" Pauling, who Cropper has often cited as a major influence on his own playing. Many of these hits were written by Pauling and they were turned into even bigger hits when they were covered by artists like James Brown & the Famous Flames ("Think"), the Shirelles ("Dedicated to the One I Love"), and Ray Charles ("Tell the Truth").
Sadly, as is so often the case, when the hits dried up the 5 Royales soldiered on in anonymity. There were still some good tracks to come though, and the band's late '50s output has been called innovative by those in the know. No less an authority than Dave Marsh included the Royales 1958 hit "The Slummer the Slum" as one of the top 1001 singles of all time in his book The Heart of Rock & Soul.
The 5 Royales have been nominated for the Rock and Roll Hall of Fame twice, but failed to be elected. They are eligible for nomination again next year, and I'm sure that Steve Cropper would love to induct them. If he gets that chance, Dedicated will have had something to do with that.
It is quite possible that Steve Cropper has played on more classic soul records than any other musician. As a member of Booker T & the MGs and the Mar-Keys he not only played on hits with those bands, but on hundreds of other Stax/Volt hits. Then there were the unforgettable tours that saw him backing the great Stax artists of the day. Cropper's impeccably soulful guitar playing has always been a key component in the sound that shook the world.
One thing that Cropper is not known for is his singing. No matter, because on Dedicated he has enlisted the help of some of the greatest singers in the world today. You don't have to be a great singer when you can have people like Bettye Lavette, B.B. King, Steve Winwood, Delbert McClinton, Lucinda Williams, Buddy Miller, and Sharon Jones do the singing. And what a pleasure it is to have the great songwriter Dan Penn along for the ride and sounding great on the lovely ballad "Someone Made You For Me."
The "house" band for Dedicated isn't too shabby either, featuring David Hood on bass, Spooner Oldham on keys, drummers Steve Ferrone and Steve Jordan, and album producer Jon Tiven on sax. By the way, Tiven does a great job giving this music the punch that it needs while never getting in the way of the awesome talent on hand.
It's difficult to give you just one track from this album, but "Say It", which spotlights Bettye Lavette on vocals, is as representative a track as any. Besides, in these days of Spotify and Rdio, it's easy for you to go and listen to the entire album right now.
Dedicated sprung immediately into my top ten albums of the year after one listen. It has only grown more in stature on repeated listenings, and there have been a number of those.
[kml_flashembed movie="http://www.youtube.com/v/mUJieUDf0RU" width="600" height="344" allowfullscreen="true" fvars="fs=1" /]