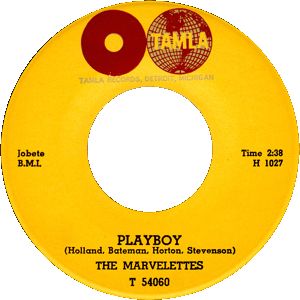 I've heard it said that if you open yourself up to the universe, inspiration will come in. No less than Neil Young has said that his songs are received wisdom. If it's good for Neil, and many others, it's good for me. So I try to be as open to outside forces as possible.
I usually write this column on Wednesday. I spend time during the beginning of the week thinking about which song to feature next. It's not as if there is a shortage of candidates. The classic soul catalog is very, very deep. Motown and Stax alone have released multiple box sets of their tracks. In fact, it's so overwhelming that it's often difficult to narrow it down to one song for the week.
This week's inspiration came to me in the shower this morning. Don't try to picture it, it's not pretty. Suddenly this great couplet came into my head for no reason that I can explain:
You ain't playing nothing in my book
Cause this is one fish you'll never ever hook
And so it was that the Marvelettes 1962 hit "Playboy" became this week's featured song.
In 1961, Georgia Dobbins and Gladys Horton formed a vocal group in their hometown of Inkster, MI. The group was originally called the Cansinyets, but before the long the quintet was called the Marvels. They entered their high school talent show in which the top three artists would get an audition with Motown. They finished fourth, but an exception was made and they got to go to Detroit.
One audition turned into three, and it was that the third one that Dobbins brought along a piano player named William Garrett who brought along an unfinished blues song that he was working on. It was called "Please Mr. Postman." Motown signed the group, renamed them the Marvelettes, and set out to make them stars.
By the time the third Marvelettes album, also named Playboy, was recorded, they had access to the biggest guns in the Motown songwriting stable. The album included songs by Brian Holland, Smokey Robinson, Marvin Gaye, and Lamont Dozier. The album spawned three hit singles. "Playboy" was #4 on the R&B chart, and #7 on the Pop chart. The other two hits from the album were "Beechwood 4-5789," and "Someday, Someway."
"Playboy" was produced by Mickey Stevenson, and the backing group was, you guessed it, the Funk Brothers.
The fourth Marvelettes album failed to capitalize on the success of its predecessor, and by 1964 there was major competition from the Supremes and Martha & the Vandellas. There were more singles, but none of them made much of a dent. Then, just as the Marvelettes seemed to be on life support, along came their single "Too Many Fish in the Sea," a stone soul classic. They followed that up with "I'll Keep Holding On," and "Danger! Heartbreak Dead Ahead," and suddenly it seemed that the Marvelettes were back.
In 1967 they hit again with Smokey Robinson's "The Hunter Gets Captured By the Game," and again with "My Baby Must Be A Magician." But lineup changes, illness, and flagging Motown interest would eventually doom the group. By 1970, they were done.
The Marvelettes were Motown's first successful female group, and scored the company's first number one pop hit with "Please Mr. Postman." In all they had 21 Billboard Hot 100 singles during their eight year run on the charts.
Related articles