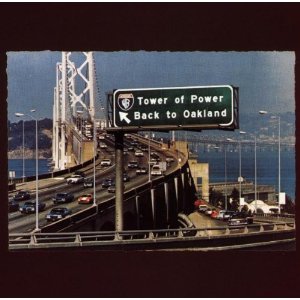 Tower of Power has been around for 44 years now. That's quite a run for any band, and as you might imagine, there have been a lot of lineup changes over the years. Through nearly all of it however, there have been the constants. They include founder and sax player Emilio Castillo, baritone sax player Stephen "The Funky Doctor" Kupka, bassist Francis Rocco Prestia, and drummer David Garibaldi.
As far as I can recall (age is a bitch), I first saw TOP sometime in the '70s. It was at the Stone Pony in Asbury Park. Somebody I was with knew somebody there and we ended up with a soundboard recording of the show. I still think it's the best Tower of Power album I've ever heard.
I've seen the band a number of times since that night. Once I saw them play in a parking lot on a hot Florida afternoon. But the appearances I remember most fondly were the band's annual shows in the '90s at the lost and lamented Bottom Line in New York City. When Tower of Power showed up there, so would I, and I would usually have about 15 friends along with me. Every one of those shows was memorable, not only for the music, but also for the people who I enjoyed it with, many of whom are gone from my life now.
I really didn't know what to expect when I arrived at The Met in Pawtucket, RI for the Tower of Power show last week. It had been a number of years since I had seen the band. I wondered how many of those constants would still be on the road. Imagine my delight when I learned that they all were, even the brilliant bass player Rocco Prestia who had been terribly ill and underwent a liver transplant a few years ago. And there, in the middle of it all, was the heart and soul of Tower of Power, the man without whom there is no Tower or Power, Emilio Castillo.
There were some new guys, at least new to me. There always are. But even though some of the players may change, the quality of the musicians, and the music, never falters. 44 years later, Tower of Power remains the soul powerhouse that they've always been. Larry Braggs follows in a great tradition of Tower of Power vocalists that includes legendary names like Lenny Williams. Tom E. Politzer ably fills the lead tenor sax role that has belonged to people like Lenny Pickett, and Richard Elliot, and Roger Smith is holding down the organ chair once occupied by the master, Chester Thompson.
It was hot, it was sweaty, it was perfect. Tower of Power blew through an awesomely funky set that included nearly everything any fan would have wanted to hear, and more. The set list included gems like"Can't You See" (this studio version is from their 1972 album Back To Oakland), the timely "Credit," and of course hits like "So Very Hard To Go," "What Is Hip," and "You're Still A Young Man." There was also a great James Brown tribute, and a powerful rendering of Billy Paul's "Me and Mrs. Jones" from vocalist Larry Braggs.
When the show was over, the evening wasn't. After 44 years, Tower of Power insists on remaining close to their fans. Every band member lined up in a row for a meet-and-greet. When it was my turn in line, I approached Emilio. He said, "I'm Emilio Castillo," what's your name," and offered his hand. There is so much I wanted to tell him, about the power of music, and the power of friendship, and the great memories, but I fumbled it all. Instead, I just took his hand and said, "thanks."
[vimeo id="27566045″ width="600″ height="350″]