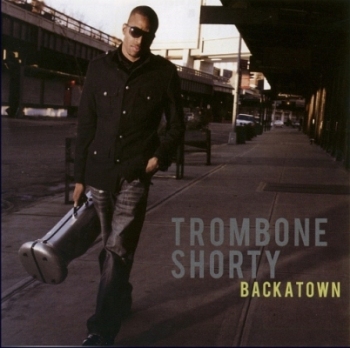 It's been nearly a year since I moved to Rhode Island. I'm still learning the ropes about many things, including live music venues. One thing I already know is that a club called The Met can be a great place to see and hear music. I say "can be" because if you're there on a crowded night, and you stand in the wrong part of the club, you're not going to have a good time no matter who is playing.
The Met is in an old mill building in the down-at-the-heels industrial city of Pawtucket, but many people think that it's in nearby Providence. New England is full of old mills, many of them abandoned now, and it's good to see people finding creative uses for the buildings instead of rushing to build something new.
I've already seen some great shows at The Met, including Bettye Lavette, Deer Tick, the Felice Brothers, and Tower of Power. Recently I found myself back in the club for a set by Troy Andrews aka Trombone Shorty.
I saw Shorty play a set in Philadelphia about 18 months ago, and it blew me away along with everyone else in the room. That's what brought me back for another show. To be honest, Shorty's albums are a bit of a hit-or-miss affair for me, but the live show that I had seen was memorable.
It was one of "those" nights at The Met. It seemed like everyone in Rhode Island was crammed into the place. Space to breathe was at a premium. Of course there are always some people who are going to insist on dancing and have no problem bouncing into other people. I'm sure you know what I mean.
One thing that never changes at The Met is the great sound. I'm no acoustician, but I assume the high ceilings have something to do with it. The sight lines are good too. You get a good look at the stage from nearly anywhere in the club except behind the columns holding the old building up.
What is the deal with people who insist upon walking back and forth through a jammed club for the entire night? Need the bar? Stay near the bar (there are two in The Met, one on either side of the room). Prone to bathroom requirements? Stay over on that side of the club. I can see a lot of you nodding your heads. You've been there, right?
None of this has very much to do with Trombone Shorty and his terrific band, except for the fact that all of it informed my enjoyment, or lack thereof, of the show. Maybe I'm just an old curmudgeon, but it's hard for me to enjoy a show under such uncomfortable circumstances. Maybe I could once, but not anymore.
The Bottom Line (Now there was a great club. Everyone sat down and appreciated the music) is that Trombone Shorty and his band brought the funk to Rhode Island, and they brought it hard. Included in the set that night was the lead-off track from Shorty's 2010 album Backatown, "Hurricane Season". Listen to the studio version and imagine yourself in a hot, crowded club hearing it live. It's better in the imagining than in the reality I assure you.