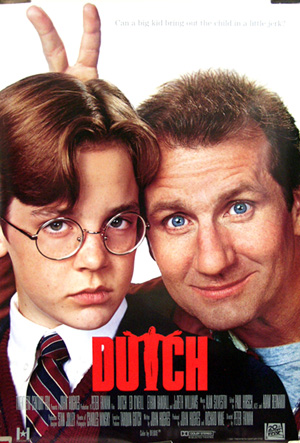 I will admit that when I chose Dutch (1991) to finish out this month of Thanksgiving-themed Soundtrack Saturday posts, I wasn't terribly excited about it. I'd only seen it once, eons ago, and it didn't make much of an impression on me. And to be honest, I wasn't a big fan of its star, Ed O'Neill (I like him now though — I really just hated Al Bundy), so that was probably a big part of the reason I wrote it off after seeing it just once.
I watched it again as I was preparing to write this and I have to admit that, while it's nowhere near the best film in John Hughes's canon, it's much better than I remember it being. In fact, I'd venture to say it's actually pretty good.
Written by Hughes and directed by Australian director Peter Faiman, whose only previous feature film credit was 1986's Crocodile Dundee, Dutch stars O'Neill as Dutch Dooley, a working-class — but fairly well-off — man who offers to go pick up Doyle (Ethan Embry), the spoiled son of his wealthy, divorcÁ©e girlfriend Natalie (JoBeth Williams), from boarding school in Atlanta and bring the boy home to spend Thanksgiving with his mother. Dutch thinks the trip will give him and Doyle the chance to get to know each other. But, of course, the two do not get along at all and road trip hijinx ensue.
[kml_flashembed movie="http://www.youtube.com/v/aUFzngANOUQ" width="600" height="344" allowfullscreen="true" fvars="fs=1" /]
A quick and dirty way to describe this film is Planes, Trains and Automobiles meets Problem Child meets Curly Sue. Sounds kind of atrocious, doesn't it? Well, while that description covers some of the basic plot elements and characters, it doesn't really do Dutch justice — nor do I think does its marketing. Watching that trailer, you probably think that this is just a slapstick comedy starring that guy who plays Al Bundy and some kid with a bad haircut. And that's what I remembered about it, too. But there really is more there, if you're willing to look for it. I think this movie had the potential to be a great Hughes movie, if only he'd taken more time to develop the Doyle character and less time developing the slapstick qualities.
O'Neill, who at the time of Dutch's release was getting ready to begin filming the sixth season of his hit sitcom, Married with Children, turns in a fine performance as Dutch and takes a character that could easily be one-dimensional and totally clichÁ©d (which is not to say he isn't a little bit) and turns him into someone who is slightly multi-faceted and genuinely interesting. I think Dutch is a far more interesting character than Doyle — the spoiled, entitled brat faÁ§ade is taken a little too far in both the script and in Embry's performance — and I was rooting for him all the way.
As a well-documented Hughes fan, I'm fascinated by his ouput in the late '80s and early '90s as there was a marked shift in the types of films he was writing. After the success of Planes, Trains and Automobiles in 1987, he shifts from teen dramedies to more adult fare — and back to the slapstick comedy that made his early career, working with John Candy on three films in three years. Then, he takes a sharp turn from adults to kids with 1990's smash hit, Home Alone. But after that film, it all seems to go downhill and the films he writes — and directs, as Curly Sue was his last turn in the director's chair — are uneven and almost paint-by-numbers. I mean, FIVE Beethoven movies? Truthfully, he lost me after Home Alone — and I didn't even know that was a John Hughes movie when my mom and I saw it in the theater back in the day. I know a guy has to make a living, but he — and his films —  really would've benefited from just taking a few years off.
OK, so enough of my rambling. Let's talk about the soundtrack, which is decidedly Hughes. Mixed in with a smattering of blues, country, surf and reggae are his old favorites, Yello, who show up no less than three times. One thing that most of Hughes's films have going for them, even if they're mediocre, is that they tend to have excellent soundtracks. In the case of this movie, I think the soundtrack is probably better than the film itself. There was an official soundtrack album released, however it only contained Alan Silvestri's score, which I'm not providing, and none of the other songs featured in the film, which I am providing. Listen and then go enjoy an episode of Modern Family.
Junior Wells – Snatch It Back and Hold It
Little Caesar – Wrong Side of the Tracks
TV Slim – Flatfoot Sam
Yello – Desire
The Ventures – Pipeline
Yello – Otto Di Catania
Lester Flatt, Earl Scruggs and The Foggy Mountain Boys – Till The End Of The World Rolls Around
Kentucky Headhunters – Only Daddy That'll Walk the Line
Dwight Yoakam – Guitars, Cadillacs
Lou Christie – Beyond the Blue Horizon
Johnny Cash – One Piece at a Time
Yello – Tied Up
Ziggy Marley & The Melody Makers – Give a Little Love