Phish – The Clifford Ball (Rhino)
Sherman, set the Way Back machine for that balmy summer of 1996! Jerry Garcia had been gone a year, and a lot of lonesome folks had hitched their wagons to the sound-carnival that was Phish.
The Vermont foursome rented out an abandoned air strip in upstate New York for a weekend of music, music and more music. They called it 'The Clifford Ball' and it became the blueprint for every summer festival that would follow in its wake.
Rhino has released a seven-disc set of the whole shebang just in time for Phish's 2009 reunion. If you didn't score tickets to Hampton, this just might help ease the sting. Trey, Gordo, Paige, and Fishman have never really been much to look at, so the important thing here is the music. In 1996, arguably, Phish were at the height of their powers. There's a fantastic mix of new (at the time) and old songs here. The band is tight, in the pocket, and totally playful. Every note played that legendary weekend has been captured in a brilliant 5.1 stereo mix. From the soundcheck to the mini acoustic set to the 3 a.m. improv jam the band performed on the back of a light-encrusted flatbed truck.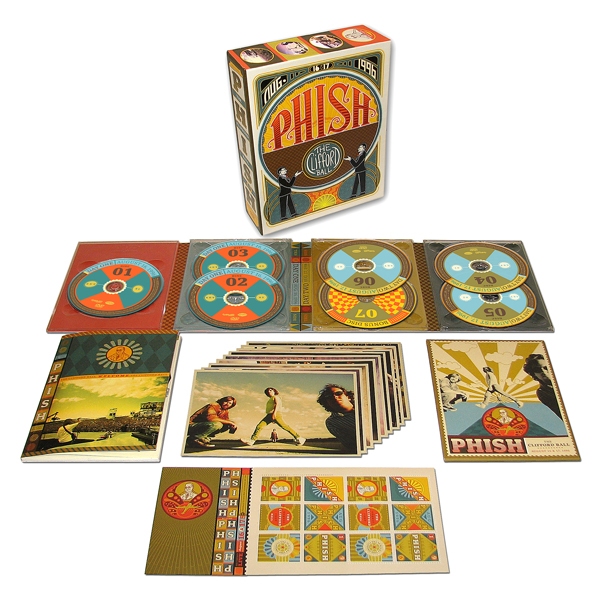 It's all wrapped up in a very cool package that includes some Clifford Ball postcards and stamps. Fire up your own kind veggie burritos, put some Magic Hat #9 in the fridge, and camp out in your living room with this great package from Rhino.
STS9 – Seasons 2009?
Recently, Soundtribe Sector Nine posted a change in the band's taping policy for the Fillmore and Georgia Theater shows.Á'  Did you notice a super-secret-subliminal message there? Looks like a counterpart to 2002's Seasons 01 could be in our future? Seasons 01 was a double CD set originally released on the defunct Sacred Sound Ascension label. For many folks it was the first introduction to the band's infectious sound — that ambient blend of jazz, drum and bass, and improv fusion. It's long out of print (Amazon lists the cheapest used copy at around $36), but the whole thing can be purchased for download at 1320 Records.
During the Fillmore run in San Francisco, the band worked out some new material as well as old favorites like "Water Song" and "We'll Meet In Our Dreams." Hopefully we won't have too long to wait to hear how it all went down. The band also debuted a new LED wall behind them to compliment their already legendary light show (along with the crystals, flowers, and live painting)
STS9 recently posted their latest podcast featuring some material recorded during last year's fall tour including a version of "Baraka" in tribute to someone with a similar sounding name.
Bisco Inferno!
After a five-night run at the Nokia Theater in New York City to close out 2008, The Disco Biscuits jumped into 2009 with a vengeance. Their three-set Denver show on Valentines Day featured an encore of Flo Rida's "Low" prompting a nod from MTV and mad props from the rapper himself. They recently announced dates for their 2009 Camp Bisco (the annual three-day festival has featured everyone in the past from Snoop Dogg to Israeli psy-trance duo Infected Mushroom) and they just announced their biggest gig yet — a headlining night at Red Rocks Ampitheater on May 30th.
A major snowstorm kept me from checking out their March 1st appearance in Baltimore, but I'm told the band brought the heat to the devoted folks who braved the elements. The band is currently working on a new album with critically lauded hip-hop producers Don Cheegro and Dirty Harry, their first studio release since 2002's SeÁƒ±or Boombox. As always, you can check out loads of the Biscuits' live soundboards at LiveDownloads.com, and I'll keep you all informed as more artists are announced for Camp Bisco. With a recession and heavyweights Phish and the Dead on tour this year, The Disco Biscuits can definitely hold their own and pack a house on a snowy night.
That's all for now, kids — have fun at Hampton this weekend and I'll meet you all back here next week…
[kml_flashembed movie="http://www.youtube.com/v/jETHy0MZHWY" width="425" height="350" wmode="transparent" /]