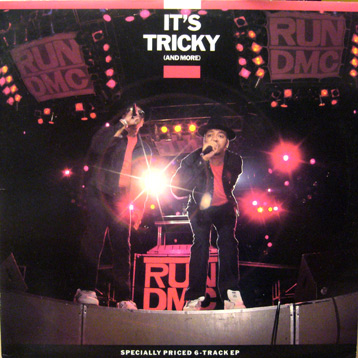 Hey, guys! Sorry the Weeknight '80s Dance Party has been MIA the past few weeks. Truth be told, I'm a little concerned that if I keep this column going weekly, I'm going to run out of remixes and then what? So, maybe we'll start doing this bi-weekly. Then, it'll feel more special to you. Or something.
This mix is full of summer jams and, to me, screams summer  way more than that one I made last month with songs about fire/sun/heat, etc. And if I were an actual DJ with, you know, professional equipment, I would've turned this into something that would rival those summertime mixes DJ Jazzy Jeff & Mick Boogie have been putting out the past couple of years. (If you don't know what I'm talking about, look that shit up and download immediately.)
While every track in this mix is stellar, my favorites are the 11-minute version of Whodini's "Magic's Wand," the "Buffalo Stance" remix, the Super Nature (aka early Salt-n-Pepa) track and the 9:30 mix of "Me, Myself and I." Really, though, every song here is fresh. Yeah, I said fresh.
Neneh Cherry – Buffalo Stance (12″ A Mix)
Super Nature – The Show Stoppa (Is Stupid Fresh) (Def Mix)
Whodini – Magic's Wand (12″ Special Extended Mix)
Ice-T and Chris "The Glove" Taylor – Reckless (Extended Version)
Eric B. & Rakim – Paid In Full (Seven Minutes Of Madness) (The Coldcut Remix)
De La Soul – Me, Myself and I (12″ Mix)
Afrika Bambaataa – Planet Rock (Original 12″ Mix)
Sugar Hill Gang – Apache (12″ Vocal Mix)
Trouble Funk – Pump Me Up (Original 12″ Mix)
Newcleus – Jam On It (12″ Vocal Mix)
Full Force – Alice, I Want You Just For Me (12″ Mix)
Grandmaster Flash & The Furious Five – Step Off (Extended Mix)
Kurtis Blow – If I Ruled The World (12″ Mix)
LL Cool J – You'll Rock (Remix)
RUN-D.M.C. – It's Tricky (Club Mix)