As the latest round of would-be blockbusters packs 'em in at a theater near you, Popdose looks back at the box office totals of yesteryear. This week we pretend that you, the reader, have been in a coma the past seven days so we can revisit the top ten films of August 19, 1998!
10. The Negotiator (distributor: Warner Bros.; release date: 7/29/98; final domestic gross: $44.4 million)
I wish I was a movie star. Not only do they play make-believe for a living, they get to wear lots and lots of wigs. For a bald man such as myself, it's a dream come true! Take Samuel L. Jackson and Kevin Spacey, the stars of The Negotiator. It's no secret that Jackson's been balding for decades (see 1991's Jungle Fever for proof), so when he gets the chance to wear a rockin' — and, oftentimes, ridiculous — rug, he goes for it: he had long hair in Jackie Brown (1997), dreadlocked hair in The Caveman's Valentine (2001), white hair in Jumper (2008), and reddish hair in The Negotiator, for which he reportedly wore a wig modeled after his hairdresser's sister's follicles. Whatever makes dress-up more fun, I always say, even if I'm usually saying it to my two pint-size nieces, not grown-ass men who are paid millions of dollars to say things like "When your friends betray you, sometimes the only people you can trust are strangers" and "Terminate this breach!" without giggling.
Like Jackson, Spacey's got some sort of reddish thing on his head in The Negotiator. Plus, the movie's poster is red. So how come this action thriller is directed by F. Gary Gray? Warner Bros. Albert, Harry, Jack, and Sam, if you four weren't dead, your faces would be red. Nevertheless, Gray got the job done, and proved his action credentials again five years later on Paramount's remake of The Italian Job.
9. Armageddon (Touchstone; 7/1/98; $201.5 million)
In August of '98 I moved to Atlanta and started an entry-level job at CNN, where I met Kurt Collins. We used to talk about movies together and come up with our own hack-critic blurbs for newspaper ads, including "I'd walk a 'Green Mile' to see Tom Hanks win another Oscar!" (If you think that's funny, thank you. If you don't, it was Kurt's idea.) These days Kurt's a teacher and I'm a guy looking for free content, so I asked him to e-mail me his memories of the 1998 crop of summer movies. "Was I even alive? Your list could have been under the heading of 'Most Forgettable Summer of Movies Ever,'" he wrote. "It looks like all of the studios knew of the impending storm called 'The Spielberg WWII Epic' and just said, 'F**k it. Roll out the kiddie crap.'" I assume Kurt doesn't talk this way in front of his students, but if he does I bet Bad Teacher's worldwide gross of $200 million this summer makes him angry he didn't whip up a screenplay sooner.
I can't say I completely disagree with him, though. The best movie I saw in the summer of '98 was Steven Soderbergh's Out of Sight, starring George Clooney and Jennifer Lopez, but by August the big-screen adaptation of Elmore Leonard's best seller had been out of theaters for several weeks. It's a near-perfect film, and sometimes studio counterprogramming works like gangbusters — Mamma Mia! opened the same weekend as The Dark Knight a decade later — but Out of Sight was buried underneath louder, more juvenile fare such as Dr. Dolittle, starring Eddie Murphy, and Michael Bay's Armageddon. According to The Gross: The Hits, The Flops — The Summer That Ate Hollywood, a 1999 book by Peter Bart, who was editor-in-chief of Variety at the time, Out of Sight was originally planned to be a fall release, but once it was clear that Universal's Brad Pitt drama Meet Joe Black wouldn't be ready in time for summer — I can't imagine director Martin Brest's slow-moving meditation on mortality going over well with Fourth of July crowds, but perhaps Universal thought it had the next Titanic on its hands (e.g., blond romantic lead, three-hour running time) — the studio moved up Out of Sight's opening date.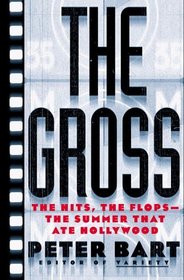 The Gross is a fast, entertaining read for anyone who enjoys books about the movie industry. In fact I wish there were sequels — or prequels, I guess — covering every summer movie season of my youth. Before Bart midwifed Rosemary's Baby, Harold and Maude, and The Godfather as vice president of production at Paramount in the late '60s and early '70s, he wrote for the New York Times, so his reporting in The Gross is solid and insightful — he has access to almost all the major players — as when he asks Steven Spielberg why he's still driven to work feverishly on two or more movies at once and is told, "There's the possibility that I'm simply an insecure Jew, that I always was and always will be. It may be as simple as that."
However, when it comes to reporting dates correctly, Bart appears to have handed off his fact-checking duties to an imaginary assistant. Did you know that "The Crow was a surprise hit in 1994″ when Miramax released it in late August? No, you did not, because The Crow came out in May of that year (its sequel, The Crow: City of Angels, was released in late August of '96). Conversely, did you know that "the first Speed" was "released in 1996"? No, you did not, because it came out in '94. And did you know that the genesis of Warren Beatty's 1998 political satire, Bulworth, came about at a dinner in '91 with Twentieth Century Fox chairman Barry Diller? Bart says Diller didn't want to green-light Beatty's Dick Tracy project at Fox back then because of budget concerns, and "had arranged the dinner in the hope of finding other projects for the star to work on to get his mind off Dick Tracy." I just hope Beatty informed Diller before the check arrived that he'd already made Tracy at Disney, since that studio released it the previous year! (Peter Biskind's biography Star: How Warren Beatty Seduced America sets the record straight: the actor-writer-producer-director took Bulworth to Fox in '95, "which had committed to Dick Tracy in 1987 and backed out," but after Beatty threatened to sue, a deal was made for him to do another film for the studio at a later date.)
This "close enough" approach to dates continues throughout the book, making it difficult for readers to trust the ones they can't double-check themselves on IMDb (or, if you were Bart, in back issues of the publication that actually paid you to be a good editor) and increasing the amount of time it takes to read The Gross since you have to stop every minute or so to thoroughly scratch your head. Of course, it's entirely possible that just as Out of Sight's release date was moved up a number of months, so was that of The Gross, ensuring that the fact-checking process was cut short.
If so it's too bad, because the book is worth reading for excerpts such as this one: "According to rumor, [Michael] Bay was the illegitimate son of another director renowned for fast-paced action movies, John Frankenheimer. Bay had confronted Frankenheimer, it was said, but had been rebuffed by the sixty-eight-year-old filmmaker. There were nonetheless clear physical similarities: Both were lanky, charismatic men who were passionate about their work. Both sized up visitors with an oddly sardonic gaze and played their cards close to the vest." Maybe so, but if Bay ever makes a movie as good as Frankenheimer's 1962 masterpiece, The Manchurian Candidate, you'll know the end is near. (I can accentuate the positive when talking about almost any director's oeuvre, but ever since Armageddon I've gotten the feeling that Bay has spent countless hours watching Amos 'n' Andy reruns while pleasuring himself with model airplanes.)
Armageddon was the second disaster movie of the summer of '98 in which a giant space rock threatened to annihilate mankind, the first being Mimi Leder's Deep Impact, which came out in early May. It was assumed that if Deep Impact made a direct hit on audiences' wallets it would hurt Armageddon's box-office potential, but because they differed greatly in tone — Deep Impact had a heart, Armageddon had a lobotomy — each movie quickly established its identity in the marketplace, and both wound up making lots of money. The former starred Morgan Freeman as the president of the United States, but do you remember what our actual president 'fessed up to on August 17, 1998? An asteroid slamming into the earth probably would've been a welcome distraction for Bill Clinton that day.
Armageddon's above-the-title star, Bruce Willis, has been sporting a shaved head on- and off-screen for about ten years now, but in '98 he was still wearing wigs in most of his movies and ball caps in press-junket interviews. Thank you for finally "coming out," Bruce, and encouraging cue balls like myself to do the same, but you obviously didn't make a deep impact on Armageddon costar Billy Bob Thornton — his receding hairline is front and center in that movie, but these days he seems to have a clause written into his contract that allows him to take home any wig he wears on camera. (Be a man, Billy Bob, and wear your hair like a baby. Just don't be a baby during interviews.) Bruce and Billy Bob teamed up again in 2001 for Bandits, but from the looks of it they both went off the weave wagon for that one.
Bruce isn't known for being the most disciplined actor. In The Gross Peter Bart explains that the star of the Die Hard series had developed a reputation by 1998 as "a free spirit; he liked a relaxed work environment. There were days when he wouldn't know his lines, but directors had to be understanding. In the words of one of Willis's former producers: 'When Bruce gets to work in the morning, you know one of two things is possible. Either he's prepared, or he's so unprepared, he hardly knows where he is.'"
Willis was wary of Michael Bay, who'd developed a reputation of his own as a screamer, but he needed the job: After he fired the director, coproducer, and cinematographer of the independently financed "Broadway Brawler" a few weeks into production in early '97, thus sealing its fate, he promised to pay back the $15 million that'd already been spent on the star's romantic-comedy vehicle. His agent then made a deal with Disney, the intended distributor of "Brawler," which agreed to pick up the multimillion-dollar tab because it needed an internationally known action star to headline Armageddon. But Willis was also on the hook to star in two future films for the studio; the pair he ended up shooting, both with child costars, were The Sixth Sense (1999), the most successful film of his career to date, and The Kid (2000).
8. The Parent Trap (Walt Disney; 7/29/98; $66.3 million)
I haven't seen this remake of the 1961 Disney movie starring Hayley Mills, but here's Wikipedia's breakdown of the plot: Natasha Richardson and Dennis Quaid play a couple who divorce shortly after she gives birth to identical twin girls, with each parent assuming custody of one of the twins before moving way the hell away from each other and beginning fabulous careers. A decade later Hallie and Annie (both are played by Lindsay Lohan, making her film debut) meet at summer camp, but despite a striking resemblance they don't immediately recognize that they must be related. Why? Because their parents never told them the other one existed. The audience is expected to root for the twins as they scheme to get their parents back together, even if a more natural response would be to yell the phone number for Social Services at the screen.
The Parent Trap didn't lead to a typecasting trap for its principal players, but it did seem to put a curse on them: Lohan remains a favorite of the paparazzi, but she's been in more courtrooms than movies the past four years, while Quaid's gone from The Right Stuff to G.I. Joe: The Rise of Cobra and Richardson … well, she died in 2009 after a skiing accident. Who's still going strong? Nancy Meyers, who made her directorial debut with The Parent Trap after cowriting films like Baby Boom and the Father of the Bride remake with her then-husband, Charles Shyer, who doubled as director. The filmmaking couple split up in '99; Shyer went on to direct The Affair of the Necklace (2001) and Alfie (2004), both of which bombed, but Meyers helmed What Women Want (2000), Something's Gotta Give (2003), and It's Complicated (2009), all of which made more than $100 million. I don't mean to discredit her talent or her instinct for what audiences want, but Nancy Meyers must have terrific hair.
7. Ever After (Twentieth Century Fox; 7/31/98; $65.7 million)
Drew Barrymore was on a winning streak in the late '90s. She appears in Wes Craven's Scream (1996) for only 12 minutes, but her character's, uh, destiny sets the plot in motion, and besides, it never hurts to have a $103 million hit on your resumé. Barrymore's first lead role after Scream was opposite Adam Sandler in 1998's The Wedding Singer, which also scored at the box office, followed by Ever After, "a Cinderella story" that showcases lots of great hair: extensions for Drew, a Prince Valiant shag for costar Dougray Scott, and lots and lots of horsehair for the actors who were hired to play medieval transportation.
Ever After also showcases a certain naughty word, according to a recent Associated Press article about the increasing use of "the F-word" in movies that are rated PG-13. "Critics of the MPAA's policy toward language say Hollywood's game-playing can actually go both ways — that filmmakers intentionally insert profanity into movies in order to secure a PG-13 rating instead of what critic Nell Minow calls the more 'babyish' PG designation," reports the AP's Glenn Whipp. "Minow points to the 1998 Drew Barrymore movie 'Ever After' as an example. The MPAA rated Barrymore's variation on the 'Cinderella' tale PG-13 for 'momentary strong language.' When the film was released on DVD, the expletive was deleted and the film's rating changed to PG." Similarly, I'll be removing all the profanity from this edition of Box Office Flashback once it's converted to e-book format (God f**kin' willing).
I feel sorry for Barrymore's love interest in Ever After, Dougray Scott. Following his star turn in that film, the Scottish actor was cast as Wolverine in X-Men, but when the filming of Mission: Impossible II (2000), in which he plays bad guy Sean Ambrose, went two months over schedule, Scott was forced to relinquish the role, allowing Australian Hugh Jackman to take over as the Marvel Comics hero, not to mention become a big movie star, host the Oscars, host the Tonys, win a Tony, etc.
It's impossible to say if Scott would've been better as Wolverine or become as famous as Jackman, but if you've seen Mission: Impossible II you know that Tom Cruise's hair is given lots of loving close-ups. Those shots alone probably took two months to film, but that's because Cruise's hair is practically its own character in the sequel. I wouldn't be surprised if the three-time Oscar nominee, who's also a producer of the Mission: Impossible series (number four comes out this Christmas), did everything he could to speed up filming, only to be thwarted by his own mane. From what I've read, it accused cinematographer Jeffrey L. Kimball of making it look flat on camera, bullied director John Woo into giving it 53 takes for a simple "flip 'n' toss," and, most damaging of all, absolutely refused to come out of its trailer on humid days. Hair today, gone tomorrow, as the saying goes, but some superstar 'dos never learn.
6. Halloween H20: 20 Years Later (Dimension; 8/5/98; $55.0 million)
Congratulations, seventh installment in the never-ending Halloween franchise, you've just won Box Office Flashback's Clunkiest Title of the Week award! Despite containing the number 20 — twice, and in quick succession in case you missed it the first time — this horror sequel's title was pronounced as "Halloween H-two-oh" in its TV ads.
Does water turn out to be the real killer? You'll have to watch the movie to find out, but since that would require nine-oh minutes of your life that you'd never get back, why don't you watch the following YouTube video instead? It features an H and an O who still have plenty of hair almost three-oh decades later, unlike, say, William Shatner, who's been proudly wearing rugs for more than four-oh decades and whose likeness was used for a Captain Kirk Halloween mask that became the basis of Halloween villain Michael Myers's perennial disguise. (Jack Lord was originally offered the role of Kirk on Star Trek in 1966 but turned it down — or was ultimately rejected because he wanted too much money, depending on who's telling the story — leaving him free to star in another TV series, Hawaii Five-O, two years later.)
5. Snake Eyes (Paramount; 8/7/98; $55.5 million)
After working together on the first Mission: Impossible, one of the biggest hits of '96 — Cruise had a buzz cut in that one, so there was no risk of it turning into a two-hour advertisement for L'Oréal — director Brian De Palma and screenwriter David Koepp reunited for Snake Eyes, a twisty conspiracy thriller set in Atlantic City that's reminiscent of De Palma's Blow Out (1981). It received mixed reviews and a muted reception at the box office, but De Palma's work is rarely, if ever, boring — Snake Eyes opens with a 13-minute tracking shot — and the film's leading men, Nicolas Cage and Gary Sinise, wear hairpieces that allow them to save face as well as scalp. Costar Carla Gugino must've gotten jealous of their accessories — her character is introduced wearing a blonde wig.
In The Gross Peter Bart reveals that De Palma worked on one of the more successful films of the summer of '98, The Truman Show, before turning his gaze to Snake Eyes. "A recurring theme in De Palma's work was voyeurism," Bart writes, which Truman screenwriter Andrew Niccol had purposely avoided exploring in his initial drafts. However, the film's producer, Scott Rudin, "felt obliged to meet with De Palma," and as they worked on a story outline, "the movie was growing darker and more distasteful. Ultimately De Palma decided it wasn't working, and said he'd like to move to another project. Rudin was relieved." Peter Weir (Witness, Dead Poets Society) eventually came on board as director; The Truman Show, starring Jim Carrey in a departure from his usual slapstick fare, racked up a global gross of $264 million.
4. There's Something About Mary (Fox; 7/15/98; $176.4 million)
The Farrelly brothers, Peter and Bobby, became the (temporary) kings of comedy with their third film, There's Something About Mary, the sleeper hit of the summer of '98; after all, it's rare that a movie debuts at number four, then claims the top spot in its eighth week of release. There really was something about the raunchy romantic comedy of Mary: it kept audiences coming back for more after they spread the word to their friends. Bart states in The Gross that the movie's potential for breakout business was evident from the start: "Tom Rothman, president of the Fox movie division, admitted, 'Maybe I should be embarrassed to say this, but I think this is one of the funniest scripts I've ever read.'"
My friend Kurt certainly had a thing for Mary. "It is, pound for pound, one of the greatest comedies ever, probably the Farrelly brothers' best," he said. "Plus, as a Providence College alum I am — by law, mind you — eternally grateful to them for always putting 'Little Rhody' (Rhode Island, to the laymen) in their movies. In fact Ben Stiller is rocking a Providence shirt in Mary when the cops are interrogating him for his highway/homo sex."
Ignoring the fact that I didn't ask him for further comment, Kurt added, "I believe the Farrellys raised the bar for comedies and the Apatows just followed suit. Before the Farrellys the American public accepted Mannequin and Weekend at Bernie's as the must-see comedies." I cut him off at that point by saying, "Thanks, that'll do," but he pretended not to hear me: "Don't think that I'm not aware of the Andrew McCarthy theme there. Not sure what to make of it, but was he supposed to make us laugh? This must infuriate poor Ducky and his wacky shoes. (Are you with me on that reference or do I have to dumb it down?)"
Either Kurt's referring to Jon Cryer's character in Pretty in Pink or he's trying to tell us he's keeping his fingers crossed for the star of Two and a Half Men at this year's Emmys.
The Farrellys haven't repeated the enormous left-field success of Mary. Me, Myself & Irene (2000) and Shallow Hal (2001) were hits in their own right, but the siblings' most recent offerings — Stuck on You (2003), Fever Pitch (2005), The Heartbreak Kid (2007), and Hall Pass (2011) — were critical and commercial disappointments. Their jokes may cross the boundaries of good taste time and again, but the Farrellys' taste in music is, well, music to my ears: their films have been scored by the likes of Todd Rundgren, Jonathan Richman, Pete Yorn, and Ivy, and in Shallow Hal they introduced American audiences to Phoenix's "Too Young" two years before Sofia Coppola featured the French band's ebullient pop song in Lost in Translation.
3. The Avengers (Warner Bros.; 8/14/98; $23.3 million)
Next summer Disney and Marvel Studios will release The Avengers, a movie that, like this one, is based on a preexisting property from another medium, but if their Avengers earns less than $25 million on its first day of release — never mind its entire theatrical run — I suspect heads will roll. Until the superhero equivalent of the 1992 Olympic Dream Team arrives in theaters, though, it's important to remember that not every brand name has built-in awareness that translates to box-office appeal.
Near the beginning of summer '98 Godzilla opened to bad reviews and grosses that were underwhelming compared to the film's gargantuan prerelease hype and ubiquitous "Size Does Matter" ad campaign. Sony's "tentpole" picture had seemed like a sure bet just a few weeks earlier, but the same couldn't be said for The Avengers. As a TV series that ran for eight years in the '60s it "was very cool, very British, and rather arcane," Peter Bart writes in The Gross. It "had its cult following, but that was, after all, the 1960s. After Batman, however, Warner Bros. began to look kindly upon TV series and offbeat heroes. Tim Burton had done some pretty strange things with Batman and had gotten away with it. Why not let Jeremiah Chechik try his luck?"
Having previously directed the offbeat Benny & Joon (1993), Chechik took a similar tack with The Avengers, lining up Ralph Fiennes and Uma Thurman to play the film's stylish spy heroes, John Steed and Emma Peel, and casting Sean Connery as the villain. But once Warner Bros. realized its summer slate was practically empty aside from Lethal Weapon 4, and after a disastrous test screening filled with working-class audience members who weren't in the mood for dry British humor, it recut Chechik's film as an action movie, "even though it hadn't been shot that way," a Warner executive told Bart. Already $60 million in the hole, the studio then decided to cut its losses, refusing to show The Avengers to critics before opening day. Regardless, it sank quickly at the box office, and though Chechik has worked steadily in TV since 2004, he hasn't directed another feature film.
Personally, I think the American public just wanted to send a message to Connery about the mixed messages it'd been receiving from him throughout the '80s and '90s. For instance, when Connery appeared in a comedy like Playing by Heart (1998), A Good Man in Africa (1994), or Family Business (1989), he let it all hang out, "it" being "no hair." But when he played a lead role in an action movie — Outland (1981), The Hunt for Red October (1990), Michael Bay's The Rock (1996), or Never Say Never Again (1983), his final spin as James Bond — he brought out the wigs. And just so he could mix his messages further, possibly to create some sort of frothy Scottish brew, Connery went wigless when he took supporting parts in the action movies Indiana Jones and the Last Crusade (1989), The Untouchables (1987), and DragonHeart (1996). Yeah, that last one's a stretch since you only hear Connery as the voice of the featured creature, but I'm going to assume that he didn't wear a rug in the audio booth when he recorded his lines. (Might not have worn pants either, but that's none of my business.) And my theory is shot to hell if you compare the thrillers The Name of the Rose (1986), The Presidio (1988), and Just Cause (1995), where Connery's bald, with the thrillers The Russia House (1990), Rising Sun (1993), and Entrapment (1999), where he's not, or if you bring up his supporting role in the action movies Highlander (1986) and Highlander II (1991), where his ponytailed wig from the sci-fi oddity Zardoz (1974) is updated and repurposed for middle age. So please don't shoot my theory to hell — it's been a long week.
Do cinematographers discourage balding A-listers from going au naturel by playing mind games with them in preproduction? "Sure, you could go without a wig in this film, but if you do it's going to take me and my crew at least an extra hour or two each day to get rid of the glare bouncing off your scalp, and I gotta tell you, once my guys think you're holding up production because you want to make a quote-unquote 'statement' about how 'bald is beautiful,' they will try to make you look fat on camera, and you won't even know it until the film comes back from the lab." Or maybe it's the fault of studio heads who are always watching out for the bottom line: "Market research tells us that with the wig you're worth another 80 mil in Malaysia. Without it you're 40 percent more likely to lose parts to the werewolf kid from Twilight."
Speaking of Lethal Weapon 4, one reason Warner Bros. needed The Avengers to be a hit, according to Peter Bart, was because it stood to make zero profit on its golden franchise's new installment. In addition to a $120 million production budget, Warner had already paid LW4's cast nearly $50 million just to get the project off the ground, with reportedly half that amount going to Mel Gibson, whose deal also included a chunk of the sequel's gross receipts. The cast included regulars Danny Glover, Rene Russo, and Joe Pesci — the Oscar winner was paid $3 million for three weeks of work — plus newcomers Jet Li and Chris Rock, whose appearance in the film reminded my friend Kurt of "an interview I saw with him when LW4 came out. He said that after this movie he was only going to make smart, creative choices when picking new projects. I think he referenced that interview when he accepted the Best Supporting Actor award in 2006 for his endearing role as Adam Sandler's jail buddy in the Longest Yard remake."
Kurt went on to say, "I also recall a Mel Gibson interview that seemed rather anti-Semitic, but I thought nothing of it." Ignorance of ignorance was bliss for Kurt in the late '90s.
2. How Stella Got Her Groove Back (Fox; 8/14/98; $37.6 million)
She had sex with Taye Diggs in paradise, that's how. (To paraphrase Bob Dylan, may you stay forever bald, Mr. Diggs.)
Twentieth Century Fox closed out 1997 with James Cameron's Titanic, which was the highest-grossing movie of all time ($600 million in the U.S. alone, $1.2 billion internationally) until the director topped it with Avatar 12 years later ($760 million here, $2 billion there). But The Gross alleges that Fox spent nearly $240 million to produce and market the film — that tally was still less than the studio's expenditure on Cleopatra in the early '60s, when adjusted for inflation — and, worse, handed over Titanic's domestic distribution rights to Paramount, along with a guarantee to split worldwide box office returns 50-50, in return for a $65 million donation to the film's budget.
By the time Titanic reached theaters and became a runaway hit, Fox was already well into production on its roster of movies for summer '98 and was justifiably nervous about spending another boatload of money, particularly since its biggest film the previous summer, the similarly waterlogged Speed 2: Cruise Control, earned only $48 million in the U.S. on a $150 million budget. (Titanic was originally supposed to be the biggest film on Fox's summer '97 schedule, but production delays, combined with its director's perfectionist streak, pushed it back to Christmas.) Peter Bart explains in The Gross that Fox's strategy for '98 was to target specific demographics on modest budgets, "with the hope that one or two might break out and become a mainstream hit": Dr. Dolittle for kids, Bulworth for their parents, Ever After for the teen-girl crowd that generated so much repeat business for Titanic, The X Files for conspiracy theorists and alien abductees (no doubt an elusive demo to reach since they tend to be reclusive, off-the-grid types), There's Something About Mary for Kurt Collins, and Hope Floats and How Stella Got Her Groove Back for the ladies.
Stella was Fox's attempt to create another Waiting to Exhale, a $67 million hit for the studio at the tail end of '95; it had the same star (Angela Bassett), same screenwriters (Terry McMillan and Ronald Bass, once again working from a popular McMillan novel), and same general marketing campaign. The film "grossed an impressive $11.8 million on its first weekend," Bart writes. "The demographics were true to form, with 80 percent of the moviegoers black, 70 percent female, and 70 percent over the age of twenty-five." But in the end Stella earned about half of what Waiting to Exhale pulled in, presumably because Fox and its corporate owner, Rupert Murdoch, were too stingy to hire Babyface to compose another multiplatinum soundtrack album. Talk about a missed opportunity: everything 'Face touched in the '90s turned to gold (and platinum, obviously), but since it's highly likely that Murdoch's former News of the World employees hacked into his accountant's voice mail, I'm sure ol' Rupert already knew that.
1. Saving Private Ryan (DreamWorks/Paramount; 7/24/98; $216.1 million)
Covering the 1998 Oscar race for New York magazine, novelist and screenwriter William Goldman (Butch Cassidy and the Sundance Kid, All the President's Men) wrote an essay entitled "The Emperor's New Fatigues (and Other Stories)," and whether you're a fan of Saving Private Ryan or not, he makes some intelligent points about the structure and inner logic of Steven Spielberg's celebrated film. I can see where he's coming from — I never understood why the military wanted to save Matt Damon's character in the first place. I mean, I'll watch almost any movie starring Damon since he's one of the most natural, least self-conscious stars around, but his hair's not that great.
Ryan begins with a man in a cemetery. He kneels down in front of a grave, crying, then the camera dollies in close to his eyes, and suddenly the audience is transported back to June 6, 1944, otherwise known as D-Day, as American soldiers prepare to land at Omaha Beach in Normandy, with Spielberg zeroing in on Captain John Miller (Tom Hanks). Stop reading now if you haven't seen the movie (I'm aware that only Kurt, my parents, and a few conspiracy theorists are still reading at this point), because at its conclusion, after the majority of Miller's Ryan-saving unit has been killed in action, we learn that the man at the cemetery is Private Ryan, now a senior citizen.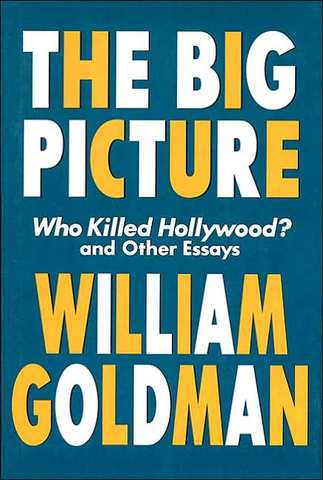 This wouldn't be a problem for William Goldman except for the fact that Ryan didn't storm the beach on D-Day. Hell, he doesn't even show up until more than halfway through the movie. The flashback doesn't make sense. "He knew nothing of the attack on the beach, knew nothing of the odyssey that followed, and he never had a chance to hear about it," Goldman says in his essay. "The only spare moment he had was when he was telling us all about his brothers and the ugly girl and setting the barn on fire." ("The Emperor's New Fatigues" is reprinted in Goldman's book The Big Picture: Who Killed Hollywood? and Other Essays. Like The Gross, it's a fast, entertaining read, but its numerous spelling, punctuation, and formatting errors make Bart's book seem flawless in comparison.)
Damon reportedly improvised Ryan's anecdote in that scene — it involves him and two of his brothers spying on the fourth brother, Dan, as he has sex with a girl "who took a nosedive from the ugly tree and hit every branch coming down" — but it's "the only time we get to spend any private time with Ryan," Goldman writes. "And the speech does not exactly endear him to us. It also rips a lot of the emotional fabric of the film to pieces."
The author, who served in the U.S. Army from 1952 to '54, is also dumbfounded by the scene in which Ryan refuses to return home to his emotionally devastated mother, who's recently been informed that three of her sons are dead, because he wants to fight the Germans in the French village of Ramelle alongside Miller and his men. Goldman finds it impossible to believe that Miller, who's been given a direct order to find Ryan and get him to safety, would give in to the young soldier's demands, no matter how noble they might be on the surface. He even offers a hypothetical storytelling solution to the problem: Ryan refuses to leave, Miller refuses to listen, and on the way out of the village they see that the Germans are approaching, meaning they have to stay and fight because they're already boxed in.
Saving Private Ryan's worst offense, as Goldman points out, is the manner in which Captain Miller is killed: by the very same Nazi whose life he'd spared earlier in the film. "This is manipulation to the nth power," he says. "But that's OK, lots of movies do that. But it is not OK here. And why? Because it gives the lie to the great part of the film. That wonderful twenty-four-minute [D-Day] sequence? What did that tell us about war? That it is awful, yes, of course that. But it also told us this: war is nonsensical, illogical, totally beyond human comprehension. But here it is all totally understandable. Let a bad guy go, guess what, he will return, relentless and helmetless to kill you. (And hang around conveniently so the cowardly lion of the flick, the translator, can become a man by killing the very man who shot his captain.)"
The only hole in Goldman's argument, as far as I'm concerned, is when he criticizes Miller's dying words to Ryan: "Earn this. Earn it." "I have zero idea what that can possibly mean," he says, though he's already answered his own question by quoting Sergeant Horvath's (Tom Sizemore) rationalization for letting Ryan get what he wants: "What if by some miracle we stay, then actually make it out of here. Someday we might look back on this and decide that saving Private Ryan was the one decent thing we were able to pull out of this whole godawful, shitty mess. Like you said, Captain, maybe we do that, we all earn the right to go home." (For a thoughtful rebuttal of Goldman's gripes, including the flashback device and Ryan's likability factor, check out Sean Weitner's analysis from June 2005 at FlakMag.com.)
My main problem with Ryan when I saw it in '98 was that I found myself not caring one way or another about any of the characters. I was left slack-jawed by the stark realism of Spielberg's battle scenes — he's easily the best action director of his generation, though Ryan is clearly a different kind of World War II movie than Raiders of the Lost Ark — but that was it. I was in the minority, however. Kurt calls Saving Private Ryan "the best war movie ever," and it became the top-grossing film of the summer as well as the year, just ahead of Armageddon and There's Something About Mary. Goldman says in his New York essay that if it were up to him Mary would've won the Oscar for Best Picture, but it wasn't nominated; instead, Shakespeare in Love won the top prize, beating out Ryan in what felt like a major upset at the time, though we'll obviously never know how many votes each film received, a practice Goldman has also complained about with relish. Spielberg didn't go home empty-handed, though — he won the Oscar for Best Director that night, the second of his career, after Schindler's List (1993).
This Christmas Spielberg returns to the director's chair for the first time since 2008's Indiana Jones and the Kingdom of the Crystal Skull, helming two movies that open within a week of each other. The 3-D motion-capture-animated saga The Adventures of Tintin comes out first, on December 23, followed five days later by War Horse, a live-action drama. The former appears to be set during World War II, while the latter takes place against a World War I backdrop, and neither features any big stars, providing me with nothing to talk about in terms of big stars' hair once the December 31, 2011, edition of Box Office Flashback rolls around 15 years from now. Instead I'll be more than happy to tell you which big stars' hair survived the Great Asteroid Crash of 2024. Until then …
Box-office tallies and release-date information provided by Box Office Mojo and IMDb.