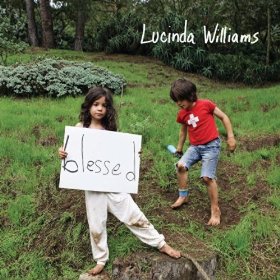 Only a couple of months in and 2011 is already looking like a strong year for music. Recently, I've been impressed by new albums from the Twilight Singers, the Low Anthem, and Middle Brother. In the coming weeks we will have new albums from Robbie Robertson and Paul Simon, among others. So there is still much to look forward to.
In the midst of all of this good music along comes Lucinda Williams with her new album, Blessed (Lost Highway), and you can add it to the list of this year's best music. I won't call it a return to form, because Williams has never made an album that I didn't like, but it is her best effort since 2001's Essence, which I consider to be her best.
Williams has always been known for her great atmospheric ballads, and there is no shortage of them here, including the soulful "Convince Me," the world-weary "Copenhagen," and the emotionally devastating album-closer "Kiss Like Your Kiss," which ranks up there with the best work that Williams has ever done as a songwriter.
As much as I enjoy the slower paced songs, I have always enjoyed it when Williams dials up the volume, and the intensity. She does that a couple of times on Blessed, beginning with the lead-off track, a powerful kiss-off called "Buttercup," a title which belies the barely contained rage ("You already sucked me dry, can't do it anymore honey. You roughed me up and made me cry, now you want to borrow money.") to be found in the lyrics. Williams wrote "Seeing Black" for her friend, singer/songwriter Vic Chesnutt who committed suicide on Christmas Day in 2009, and it is one of the most powerful songs that she has ever written. There are five stages of grief, and Williams is clearly in the anger stage as she addresses the lyrics directly to her lost friend:
When you made the decision to get off this ride
Did you run out of places to go and hide
Did you know everybody would be surprised
When you made the decision to get off this ride
Not only is Williams a great songwriter, singer, and performer, she is infallible when it comes to choosing musicians to accompany her. This is particularly true in the the guitar section of her bands over the years. Great players like Kenny Vaughan and J.J. Jackson (who were paired in my favorite Williams band), Gurf Morlix, Doug Pettibone, and Bo Ramsey have all been part of the mix at one time or another. On Blessed there is stunning guitar work from Greg Leisz and Val McCallum, and a blazing guest spot from Elvis Costello on "Seeing Black." The album was impeccably produced by Don Was with Tom Overby, and Eric Liljestrand.
Lucinda Williams is a true American original. After years in the wilderness, she has finally find an oasis of calm in her life. At the same time, she hasn't forgotten how to get in touch with the anger and pain within her, and it makes for a brilliant, volatile mix. The albums at the top of my 2011 list seem to be changing on a weekly basis. Blessed has taken its place there now.
[kml_flashembed movie="http://www.youtube.com/v/5P6z7b5aIi4" width="600" height="344" allowfullscreen="true" fvars="fs=1" /]