Babyface turns 30 this year. Sure, the Man Who Would Be Babyface — Kenneth Edmonds — was born in 1959, but the singer, songwriter, producer, and all-around hit maker extraordinaire began taking baby steps up the Billboard charts the year Michael Jackson's Thriller dominated every chart. Join Robert Cass, Jeff Giles, and Mike Heyliger as they take a look back at the first three decades of Babyface's career, with various detours along the stream of consciousness.
"Love Fool" by Nightliners [Amazon / iTunes] (written by Kenneth "Babyface" Edmonds; produced by Walter D. Light and Cash Sinclair; from Two for the Road, 1983)
http://www.youtube.com/watch?v=3qZrr-0FmUU
Robert: Last week we talked about "Funky Situation," a pre-'83 track from a then-teenage Babyface's first band, Manchild. This week we have "Love Fool," an even more obscure blast from Kenny Edmonds's past that I've appropriately 'Face Timed, calendar-wise, to make up for my brain-dead scheduling of "End of the Road" during Valentine's week. Once again, YouTube shows off the depths of its crowd-sourced musical archives.
"Love Fool" must have been an early assignment for 'Face right before the Deele signed with SOLAR and he started writing exclusively for labelmates like Midnight Star and Shalamar. In fact, it might be the song that caught the attention of SOLAR founder Dick Griffey and led to those in-house writing gigs. It's smoooooth stuff.
Do you think the members of Nightliners were big Ted Koppel fans in the early '80s? Maybe they were just big cocaine fans. Or maybe they liked to watch Nightline while coked up. If that's the case I bet they had all kinds of brilliant ideas for getting those American hostages out of Iran. If only President Carter or Tony Mendez would've listened!
Mike: Is it me, or does "Love Fool" sound a lot like "P.Y.T. (Pretty Young Thing)"?
Jeff: You think everything sounds like "P.Y.T. (Pretty Young Thing)."
Robert: Jeff does have a point. Who's your tenderoni, Mike? 'Fess up.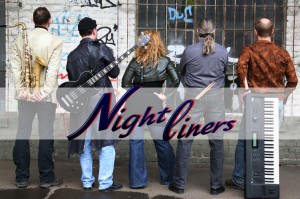 At first the intro reminded me of Madonna's "Holiday," which came out the same year, but you're right — "P.Y.T." is the musical antecedent here. But if YouTube is correct and the demo for "Love Fool" was recorded in '82, the year "P.Y.T." was released along with the rest of Thriller, was Babyface ripping off Quincy Jones and James Ingram, or was it the other way around?
Jeff: Never mind who's ripping off whom. The truly important questions here are:
1) Why doesn't every song sound like this?
2) Where is the 12-inch version, and does it contain an even longer synth solo?
3) Can science create a way for me to live inside said synth solo?
4) Is that Ray Parker Jr.'s cousin on lead vocals?
Mike: Maybe 'Face should've continued to rip off "P.Y.T." when he actually worked with MJ on 2001's "You Are My Life."
Robert: Why you gotta bring us down with end-of-the-studio-album-line Jacko at a time like this?! All I know is that's one deeply wounded bird on lead vocals; you'd think he'd written the song himself. Babyface must've appreciated that level of commitment.
Mike: I'm trying to picture what living inside a synth solo would be like.
Jeff: It depends on the synth solo. In this case I'm sure it would be glorious. Velour everywhere.
Mike: I've never been much for velour.
Robert: Is living inside a synth solo anything like living inside Gino Vannelli?
https://www.youtube.com/watch?v=aOBm_eaBxHI
Fantastic voyage, y'all! Everybody hop in the miniaturized bloodmobile, and don't mind circa-1987 Dennis Quaid and Meg Ryan making out in the backseat — they're always like that.
Jeff: Oh my god, Cass, why did you even know this song existed?
Mike: Wait, which song?
Jeff: That Gino Vannelli terror show.
Mike: "Living Inside Myself"? That song is awesome!!
Jeff: I feel like I don't even know you anymore.
Robert: Jeff, I know this song because I'm a sensitive human being who isn't afraid of real emotions, you dig? And I know "Love Fool" because I've thoroughly researched every nook and cranny of Babyface's production history. (Bragging about that skill on LinkedIn hasn't brought me any job offers yet, but I don't consider that to be my fault.)
I like "Living Inside Myself" too, Mike. I mean, it's corny and overdramatic, but it works. Who says the Soul Train doesn't go all the way to Montreal?
Mike: But it does go to Montreal — Gino was the first white singer to be a guest on that show!
Robert: You and I know that, but there are doubters. They're all around us.
Mike: Are you referring to Jeff? Because he's a doubter.
Jeff: I'm the only one making sense around here!
Mike: That's what they all say.
Jeff: We can agree to disagree about Gino, but I think we can all agree that "Love Fool" has a hell of a lot more replay value than anything by Manchild. A quantum artistic leap for Babyface!
Mike: My big toenail has more replay value than that Manchild song from last week.
Robert: I just wanna stop [add dramatic one-second pause here] this childish Manchild bashing and point out that Jeff's always been more of a Benny Mardones fan.
Jeff: You rat-bastard slanderer!
Mike: Robert is no such thing. I know he speaks the truth.
Jeff: DUAL SLANDERERS!
Robert: Have you and Jason finally finished your documentary about Benny? Jason posted the "trailer" on YouTube a long time ago.
Mike: *gasp*
Jeff: I had nothing to do with that stupid documentary. It was all Jason.
Mike: Jeff doth protesteth too mucheth.
Robert: Sometimes I don't know what to believe …
Mike: So, how has "Love Fool" remained hidden from music fans for so long?
Jeff: Clearly, you haven't been crate digging hard enough.
Mike: I know. I'm disappointed in myself. I may have to shut down Jheri Curl Fridays now.
For an in-depth look at Kenneth Edmonds's discography as a solo artist, see Mike and Jeff's Popdose Guide to Babyface.