Babyface turns 30 this year. Sure, the Man Who Would Be Babyface — Kenneth Edmonds — was born in 1959, but the singer, songwriter, producer, and all-around hit maker extraordinaire began taking baby steps up the Billboard charts the year Michael Jackson's Thriller dominated every chart. Join Robert Cass, Jeff Giles, and Mike Heyliger as they take a look back at the first three decades of Babyface's career, with various detours along the stream of consciousness.
"Most Girls" by Pink [Amazon / iTunes] (written by Kenneth "Babyface" Edmonds and Damon Thomas; produced by Edmonds; from Can't Take Me Home, 2000)
Robert: Was Pink the last artist to be successfully "launched" by LaFace Records before most of the big names on its roster were absorbed by parent company Arista in 2001, thanks to L.A. Reid's ascension to the throne? (For what it's worth, I sincerely hope a lot of perverts out there discover this post by googling "most girls pink.")
Mike: Yeah, I think so. And "Most Girls" is catchy, but thank goodness P!nk had the foresight to move away from R&B. Otherwise she would've been a serious one-album wonder.
Robert: Good catch on the exclamation-point-inclusive, PR-department-approved spelling of Pink's name, Mike, but I'm going to ignore it — and, by extension, you, but don't take it personally, you big baby. (However, you're more than welcome to take that last part personally.)
Pink certainly has a voice for R&B, but it wasn't until her third album, Try This (2003), and the singles "Trouble" and "God Is a DJ" that I really took notice of her talent. Babyface cowrote "Most Girls" with Damon Thomas, and they teamed up with Harvey Mason Jr. to write and produce "Thankful," a 2003 Kelly Clarkson song we discussed back in March. At the time we said that "Thankful" sounded like it might've originally been intended for Christina Aguilera, who scored a hit early that year with "Beautiful," a ballad written and produced by Linda Perry. The ex-4 Non Blondes frontwoman produced the majority of tracks on Pink's second album, Missundaztood (2001), and cowrote most of them with Pink (nÁ©e Alecia Moore), though "Get the Party Started," which was inescapable at the end of '01, was all Perry.
The successful partnership ended after that one album, apparently because Pink felt betrayed when Perry teamed up with Aguilera to write and produce tracks for Stripped, her 2002 album that contains "Beautiful."
"I took it really personally when she started working with other artists, particularly artists that I didn't like," Pink explained on VH1's Behind the Music in 2010, having feuded with Aguilera nine years earlier when they recorded a cover of "Lady Marmalade" with Lil' Kim and Mya for the Moulin Rouge! soundtrack album. She added, with a laugh, "I don't think imitation is the highest form of flattery. I think it's annoying."
Pink did ask Perry to collaborate on what became Try This, but was initially turned down because Perry didn't think they should work together again so soon after Missundaztood. Pink eventually turned to Rancid's Tim Armstrong to create a less soul-searching follow-up to her five-times-platinum sophomore effort, leaving Perry feeling betrayed herself. "She kind of left me on my own, and I resented her for that," she told Behind the Music. "We never have been the same since then."
Mike: Perry probably just wanted to tap that ass. Or she wanted P!nk to record a cover of "What's Up?"
Robert: You can make inappropriate comments like that because you're gay. No fair. (Now who's the big baby? Oh, right — it's me.)
Mike: Nah. Even if I wasn't gay I'd make inappropriate comments like that.
Robert: "Most Girls" reminded me that "bling" has been mainstream slang — in other words, no longer cool once sheltered white people started using it for comic effect — for a long time now. I didn't know that it entered the mainstream in '99 thanks to Lil Wayne rapping about it in the chorus of B.G.'s "Bling Bling."
Mike: That was certainly the first time I'd ever heard the term. Probably one of the last slang phrases to make it into the mainstream without the help of the Internet.
Jeff: "Most Girls" is full of hip-hop jargon like "bling" that's become stereotypical "street" shorthand: "shorty," "floss," etc. Take her or leave her — and I'd mostly leave her — but Pink has certainly evolved quite a bit since 2000.
I definitely agree with Mike's point about how branching out into pop saved her career. I was stunned to discover that "Most Girls" was her biggest hit until "So What" (2008); I figured that honor would have gone to one of her perma-singles, like "Just Like a Pill" (2001). During this period I never would have guessed she'd have any staying power — she seemed like a gimmicky singer with a fine but unremarkable voice and expensive production. Turns out she's a really, really savvy judge of solid pop songwriting (or she knows how to hire people who are).
Robert: Yeah, I wouldn't have thought back in 2000, or even 2001 when "Get the Party Started" was a huge hit, that a "bad girl" singer with pink hair who goes by the name of Pink would still be popular more than a decade later, but her most recent album, 2012's The Truth About Love, has sold more than two million copies since last September, and she hasn't even had to resort to being a judge on a network talent show to sell more records.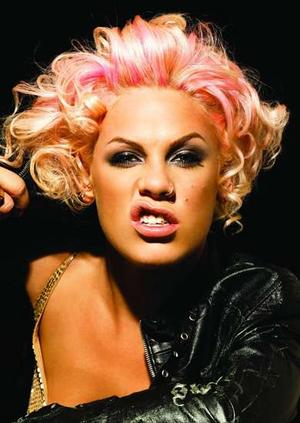 Jeff: What bugs me about Pink's records is the production. It's always so harsh, so strident — I don't hear any warmth or musical dynamic in there. Everything's designed to get up in your face, from her image to the way her singles are mixed. It wears me out.
Mike: The kicker for me was seeing her live.
Robert: When was that? Are you more of a fan than I realized, or was she on a bill with someone you like more?
Mike: I've seen her twice. First time was opening for Lenny Kravitz in 2002 — she completely upstaged him — and the second time was a couple of years ago as a headliner. In another life she would've been Pat Benatar. Then again, her hit-making period has lasted longer than Benatar's, so maybe she made the right decision(s).
Jeff: That's a smart comparison, but it makes me sad that today's equivalent of Pat Benatar sounds like Pink.
Robert: Hey now, "Trouble" and "God Is a DJ" are better than anything Benatar put out, if you ask me. (Sorry, Matt Wardlaw. I'm sure that stung a little bit.)
Mike: I'd put a Pink hits package up against Benatar's. They'd probably be even-steven.
Jeff: But Benatar could be tough without being showy about it, you know what I mean? And even that cringeworthy dance at the end of the "Love Is a Battlefield" video is better than the kickboxing routine Pink puts on in this one.
Robert: She was just a child, Jeff! She didn't know what she was doing! No one told her that Billy Blanks's Tae Bo workout videos wouldn't sweep-kick the nation forever! Or that Jean-Claude Van Damme's Kickboxer (1989) should be digested as a comedy, not a real action/sports movie! Does it sound like I'm yelling right now?! I'm really sorry about that, but I don't know how to stop at this point!
Jeff: Too much Pink will do that to a man! Wait, that didn't sound right …
For an in-depth look at Kenneth Edmonds's discography as a solo artist, see Mike and Jeff's Popdose Guide to Babyface.