Babyface turns 30 this year. Sure, the Man Who Would Be Babyface — Kenneth Edmonds — was born in 1959, but the singer, songwriter, producer, and all-around hit maker extraordinaire began taking baby steps up the Billboard charts the year Michael Jackson's Thriller dominated every chart. Join Robert Cass, Jeff Giles, and Mike Heyliger as they take a look back at the first three decades of Babyface's career, with various detours along the stream of consciousness.
"Thankful" by Kelly Clarkson [Amazon / iTunes] (written by Kelly Clarkson, Kenneth "Babyface" Edmonds, Harvey Mason Jr., and Damon Thomas; produced by Edmonds, Mason, and Thomas; from Thankful, 2003)
Robert: I'd never heard the title track from Clarkson's debut album before, so it was a pleasant surprise. I wonder if it was written specifically for her or just selected from a big pile of demos by Clive Davis following her first-season victory on American Idol in 2002. I can imagine Christina Aguilera doing a good job with "Thankful" too, and it turns out she cowrote the album's first single, "Miss Independent."
Mike: I don't know if I ever listened to Thankful in its entirety — I think I tossed it at some point a few years ago — but I agree that this track sounds very Aguilera. I wouldn't be surprised if it had been written for her.
Robert: Geoffrey Williams, an artist I've liked for more than 20 years now, answered a fan's question on Facebook about "Whatever Happens," a song he cowrote that landed on Michael Jackson's last studio album, Invincible, in 2001. Williams said he recalled it being recorded by Mario Vasquez for Sony around 2000 before Vasquez was dropped from the label, though he was allowed to keep his recording of the song. Vasquez's manager then got in touch with Teddy Riley, who was intrigued by "Whatever Happens" and recorded a new version before presenting it to Jackson, who liked what he heard. Williams said the song was one of approximately 250 ("allegedly") that were recorded for Invincible, making it one of just 16 that actually wound up on the album. I wonder how many were recorded or simply submitted for approval for Kelly Clarkson's first album.
Mike: Probably a ton. Then again, maybe not so much since she was able to get a prime Aguilera castoff.
Jeff: Holy shit, "Thankful" sounds like a Babyface demo with someone else's vocals on top. If we could find his work tape I bet it'd sound just like this, right down to the background-vocal arrangements and the pronunciation of "with you by my side" as "witchoo by my side."
I remember that footnote about Aguilera cowriting "Miss Independent." I still think that's a pretty killer little pop tune, especially in light of who Clarkson was when she recorded Thankful.
Mike: Her greatest-hits album is pretty killer too. She knows her way around a single.
Jeff: I find it terribly inappropriate that Kelly Clarkson has a greatest-hits album. Not because she isn't talented or doesn't have hits, but just because … I mean, how many albums has she released? Four?
Mike: Five, actually, but I think four is the right dividing line for a hits package.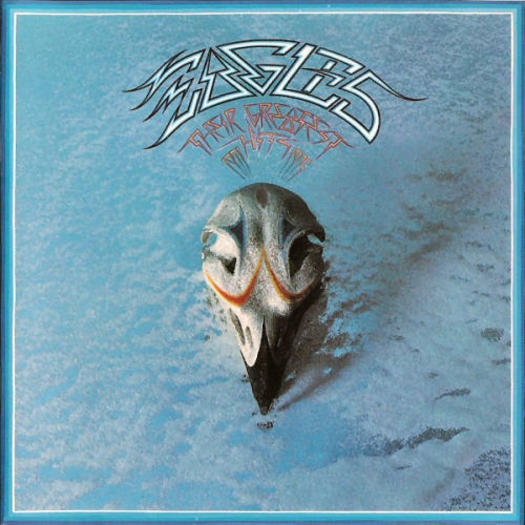 Jeff: Stupid Eagles. But even so, ten years seems like such a short amount of time for something like that.
Mike: If I remember correctly, Motown put out a Jackson 5 greatest-hits album just two years after "I Want You Back" made them stars. But five years seems like the norm.
Robert: Shaquille O'Neal released a best-of after just two LPs.
Jeff: I'd argue that Motown almost doesn't count. "I Want You Back" came out in '69, but that was still kind of the dawn of the album era, and Motown was a very singles-oriented label anyway, so a greatest-hits record was more or less the same as any other release for them.
I guess I just think hits packages are stupid.
Mike: Popblerd just did a podcast about that very thing.
Jeff: I know. It's a good thing you didn't invite me to sit in!
Mike: Would it have gone something like this?
Me: So, we're here to talk about greatest-hits albums—
Jeff: Fuck greatest-hits albums! [Hangs up phone.] Mike Duquette: [Cries softly to himself.]
Robert: Jeff, you said yourself when we talked about "Roni" that albums only need ten songs. If Clarkson put together a best-of comp after five albums, that's two songs per LP. Boom! I can do simple math!
Then again, ten-song best-of albums are usually the kind found in truck-stop minimarts or the two-for-five-dollars CD bin at F.Y.E. And on the other hand of my "then again," Babyface's 2011 entry in Sony's S.O.U.L. series of R&B comps includes the single mixes of "It's No Crime," "Whip Appeal," and "My Kinda Girl," which almost count as rarities these days. In conclusion, I can't conclude anything, which is why I would make a terrible lawyer.
Aren't contractual obligations the impetus for a large number of greatest-hits albums, e.g., "I had a five-album contract with Sony, but Universal signed me to a new contract after my fourth, so my fifth for Sony became a greatest-hits album"? One of the first cassettes I ever owned, Paul Simon's Greatest Hits, Etc., falls under that category, though I had no idea until I read Fredric Dannen's Hit Men: Power Brokers and Fast Money Inside the Music Business (1990).
In conclusion, I still can't conclude anything, but I do like greatest-hits albums. They're a nice gateway into an artist's discography, but if you decide to go no further you've got his/her/their most accessible songs on one album. Johnny Mathis released the first one ever, right? I think I read that on Wikipedia.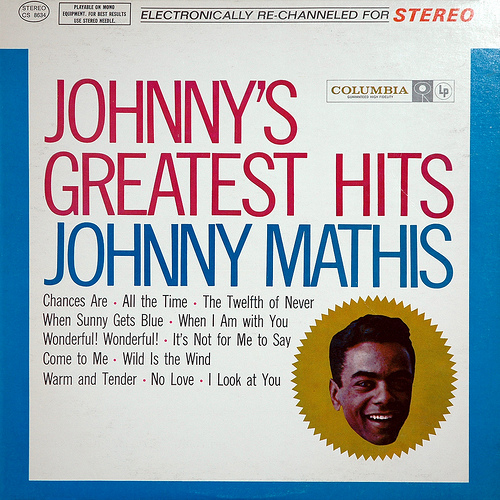 Jeff: The more I listen to "Thankful," the more I like it. I'd almost forgotten Clarkson was capable of sounding this real and relaxed.
Mike: Oh, Jeff, you so grumpy.
Jeff: I was complimenting something!
Mike: In a grumpy, backhanded fashion!!
Jeff: I feel like all she does anymore is yell, and the production on her past few records has gotten really brittle. Also, get off my lawn.
Mike: She does scream a lot. I'll give you that.
Robert: Mike, when we talked about "End of the Road" last month I couldn't find a place in the edited conversation for this George-and-Elton-directed gripe of yours: "Ugh. I hate that 'Don't Let the Sun Go Down on Me' cover." You glass-house-mortgaging bastard!
Mike: Jeff is grumpier.
Robert: Who do you guys think is the best American Idol winner as far as vocal ability is concerned? Babyface apparently mentored some of its contestants one week in 2011, including eventual season-ten winner Scotty McCreery, and it looks like he'll be a mentor for Cee Lo's "team" on NBC's The Voice this spring, having previously been one of the label executives who signed Cee Lo's group, Goodie Mob, to LaFace's roster in the '90s. (Did 'Face ever appear on Fox's other singing-competition show, The X Factor? I thought he did as a favor to L.A. Reid, the other half of LaFace's executive branch and a judge for the show's first two seasons in the U.S., but maybe I just imagined reading that.)
"I think the thing that Cee Lo represents is a guy who came from the left — he's not your typical artist or one you would have picked out of a crowd and said, 'Oh yeah, he's going to be a star,' especially with the way he sings," Babyface told The Voice's "social media correspondent," moonlighting singer-actress Christina Milian. "One could have argued his style of singing just doesn't make sense with today's radio or yesterday's radio, and he knocked all of that down, and I can't help but feel very proud to be a part of that — that I was there in the beginning as well."
Jeff: I've mostly avoided everything Idol related — you could probably put a lineup of all the winners in front of me and I wouldn't be able to identify them — but I'm going to have to watch the upcoming season of The Voice for work, so the words "'social media correspondent,' moonlighting singer-actress Christina Milian" fill me with sadness.
Mike: They don't fill you with sadness as is?
Robert: I know names and faces, but I couldn't tell you what the winners sound like or the names of their biggest songs. Every year since '09 I've seen articles about American Idol's declining ratings, and it does seem to have been eclipsed by The Voice in terms of buzz, at least for now, but it's still inescapable. If the undead were allowed to be contestants, Idol's ratings would be through the roof once again.
Mike: At the end of the day there are really only two Idol winners I'd give the time of day, i.e., buy one of their albums: Kelly Clarkson and Phillip Phillips.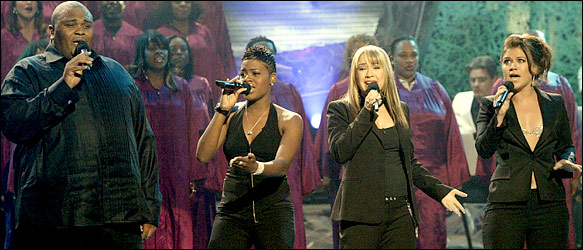 Robert: The latter makes me long for the days of studio-mandated name changes (see: Cary Grant, born Archibald Leach). Seriously, not even "Phil Phillips" at the very least? Work with me here, sir.
In 2007 Babyface cowrote (with Ernest "Bishop Young Don" Dixon) and produced "Everywhere I Go," the closing track on 2006 Idol runner-up Katharine McPhee's self-titled debut. He also produced the Diane Warren-penned "I Feel Beautiful," from 2004 Idol winner Fantasia's self-titled second album (2006).
I like "I Feel Beautiful," though I wouldn't have minded hearing it fade out at the three-minute mark, before 'Face and Fantasia bring it to its "triumphant" conclusion. "Everywhere I Go," on the other hand, plays it safe from beginning to end — it's a phoned-in 'Face production.
Mike: ""Everywhere I Go" sounds like it was written and recorded under a mandate to make something that sounds like Mariah Carey's "We Belong Together." Still, it's better than "I Feel Beautiful"; Fantasia can sing her ass off, but that doesn't mean she should sing just anything.
Robert: It turns out that KwamÁ©, who we've mentioned before, also produced a track on that Fantasia album, "Not the Way That I Do." Meanwhile, Harvey Mason Jr. and Damon Thomas cowrote and produced one on McPhee's album called "Do What You Do."
Mike: KwamÁ©'s quite talented. He's a multi-instrumentalist and has produced some great stuff for Christina Aguilera, like "Understand" (2006), and a few others, including Will Smith.
Robert: Full circle back to Xtina! I knew he'd gotten into production since his recording career ended in the '90s, but I didn't know the range of his credits.
Jeff: Ugh. Was Babyface awake when he wrote these songs? Because I had a hard time staying conscious while listening to them. I really thought "Everywhere I Go" was a five-minute song until I looked at the YouTube counter and realized I'd only been listening for three twenty-five.
Robert: Under the shared credit of "Face and the Underdogs," Babyface coproduced one other song for Thankful with Mason and Thomas, a duet with Tamyra Gray titled "You Thought Wrong." Do either of you know if Mason got his start as a drummer like his legendary dad? Last year I bought a 1975 album of Mason Sr.'s called Marching in the Street, which features other prominent '70s jazz and session musicians like Herbie Hancock, Dave Grusin, Lee Ritenour, Chuck Rainey, and Hubert Laws, plus vocalists Randy Crawford and Jim Gilstrap. It's a solid set of songs.
Jeff: Randy Crawford! She should've been bigger. I owned the cassingle of her version of "Knockin' on Heaven's Door," featuring Eric Clapton and — speaking of smooth-jazz legends — David Sanborn.
I don't think I even knew there was a Harvey Mason Jr. until today.
Robert: Neither did I until I looked up "Thankful" a few weeks ago. We can all learn so much from 'Face Time.
Jeff: And thanks to Spotify, I'm now listening to Marching in the Street, which is better than "Thankful."
Mike: I have Randy Crawford's best-of album. I dig her voice — it's super unique.
Robert: Her 1981 update of the Crusaders' "Street Life," which she sang on two years earlier, is aces, and is put to good use in Jackie Brown (1997), although it originally appeared in the Burt Reynolds-directed Sharky's Machine.
And, like me, Crawford's from Macon, Georgia, so of course she's awesome.
For an in-depth look at Kenneth Edmonds's discography as a solo artist, see Mike and Jeff's Popdose Guide to Babyface.