Babyface turns 30 this year. Sure, the Man Who Would Be Babyface — Kenneth Edmonds — was born in 1959, but the singer, songwriter, producer, and all-around hit maker extraordinaire began taking baby steps up the Billboard charts the year Michael Jackson's Thriller dominated every chart. Join Robert Cass, Jeff Giles, and Mike Heyliger as they take a look back at the first three decades of Babyface's career, with various detours along the stream of consciousness.
"Nothin (That Compares 2 U)" by the Jacksons [Amazon / iTunes] (written and produced by Kenneth "Babyface" Edmonds and Antonio "L.A." Reid; from 2300 Jackson Street, 1989)
Robert: Who was in the Jackson 4 at this point? Did Jackie join the lineup when Jermaine stayed behind at Motown and the rest went to CBS in the mid-'70s? Or was that Randy? I'm getting these guys confused, which is unfortunate since we're discussing a song called "Nothin (That Compares 2 U)," but then, my confusion is compounded by the fact that SinÁ©ad O'Connor had a hit one year later with a cover of the Family's "Nothing Compares 2 U," written by Prince.
Mike: At this point the Jacksons were Randy, Jermaine, Tito, and Jackie. I'm relatively sure that "Nothin" was the first cassingle I ever bought. Still love this song.
Robert: I'd never heard it before. I was only familiar with the family-reunion title track of 2300 Jackson Street, which I also didn't know was the last album the Jacksons recorded together.
Four of its tracks were cowritten and coproduced by Attala Zane Giles. Jeff, would you please ask your exotic-sounding uncle what it was like working with Tito?
Mike: It's actually pretty decent. At least as good as Victory. It's also worth noting that in addition to 2300, Janet, Jermaine, Jackie, and Randy released albums in 1989, following releases by LaToya and Rebbie in '88 and Michael and Marlon in '87. So, to sum up, between the fall of '87 and the fall of '89, all of Joe and Katherine's kids released at least one album.
Except Tito. Damn Tito.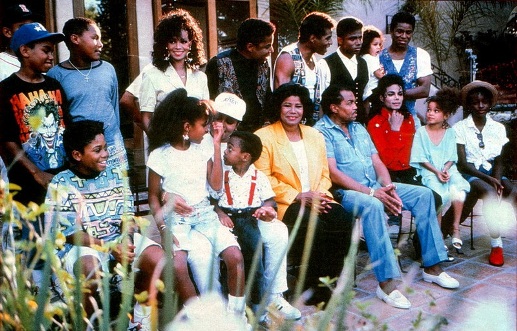 Jeff: I'd never listened to "Nothin (That Compares 2 U)" before today, but that's because I've never lived in Belgium, where it was a top 20 hit in '89.
Okay, really, it's because I wasn't listening to the right R&B stations that year — it broke the top ten in that format — but it's still semi-astounding how quickly the Jacksons' fortunes fell. Even with Michael no longer in the lineup, you'd think they would have been able to eke out more than half a million in worldwide sales at this point, especially after the back-to-back-to-back successes of Destiny (1978), Triumph (1980), and Victory (1984). Alas.
Then again, if "Nothin" was the most radio-ready song on 2300 Jackson Street, I guess I can understand why it flopped as hard as it did. I mean, the song is utterly '89 in a perfectly new-jack-swing sort of way, but it really has no distinguishing characteristics; it sounds like paint-by-numbers 'Face and L.A., with a lot of the same ingredients they were using (to greater success) in other songs and with other artists. Everything sounds very familiar, and not necessarily in a good way.
Robert: Yeah, I thought I heard a melody line similar to Babyface's own soon-to-be-released "Tender Lover" somewhere in there, and maybe a Bobby Brown retread as well, but I could be wrong.
Jeff: I've been racking my brain all week to try and remember what my first cassingle was — I think it may have been Jonathan Butler's "Lies."
Robert: Mine may have been De La Soul's "Me Myself and I" in the spring of 1990, though I bought it off a "friend" who charged me a 600 percent markup. In other words, roughly the same as Sam Goody at that time.
I remember trying to sell back some cassingles at a North Carolina record store in '94. The clerk just shook his head.
Mike: 2300 Jackson Street sold half a million in the U.S. alone.
Jeff: I always forget you have access to SoundScan data. Wikipedia claims it sold that amount worldwide.
Mike: But it was a pre-SoundScan album. I know it was certified gold here, but I don't know exactly how much it sold.
Jeff: Well, I know SoundScan wasn't implemented until '91, but you can still look up sales data, right? Or does the system only show you post-'91 numbers? I'm less inclined to be impressed about a gold certification for a Jacksons record in '89. Gold was essentially the default, given Epic's investment in/promotional commitment to the family. That record could've shipped gold and returned platinum.
Mike: The system only shows you post-'91. I can't imagine 2300 sold terribly, but Epic did drop the Jacksons after it was released, so I'm presuming the label saw no commercial viability in a Michael-less group. Or maybe Michael called up Tommy Mottola and was like, "Fuck those guys."
Jeff: They really did go all out with 2300 Jackson Street, hiring expensive producers and songwriters and corralling guest appearances from Janet and Michael on the title track, so it couldn't have been a cheap album (not that anything the Jacksons did after leaving Motown was done for less than top dollar). Still, that's such a fast fall from grace for an act that had been a fixture on the pop landscape for a really long time.
Maybe it was "Time Out for the Burglar" (1987) that did them in.
http://www.youtube.com/watch?v=sRX2yH5fQlc
Mike: Sweet Jesus, is that song terrible.
Robert: Is Belgium where your uncle, Attila the N'Zane Giles, was living at the time, Jeff? I need some background here, please.
Jeff: He conquered many R&B sessions in the '80s! Plus, he was in Switch, who were signed to Motown after Jermaine Jackson took an interest in their demo tape.
Mike: Giles gets around!
For an in-depth look at Kenneth Edmonds's discography as a solo artist, see Mike and Jeff's Popdose Guide to Babyface. And if you're a member of Spotify, check out the 'Face Time playlist here.