A glimpse at the editing process for this column — stop that snickering, you at the back, this thing absolutely does get edited — as we wrap up Disc 4 of this seven-disc set.
Dunphy — (noticing typos) Addendum 2: " they we're fugly too" — Freudian slip. I'm writing with a mirror in front of me.
Feerick — I was going to fix that in the revision, but now I'm not so sure…
Dunphy — Leave it. Hell, start the column with it. I ain't got no alibi.
---
#16 The Cure, "Let's Go To Bed" (1982)
Did not chart in the US. Peaked at #44 UK, though it charted highest — reaching all the way to #15 — in Australia. (See comment)
(Dodgy quality because UMG are dicks.)
Jon Cummings — We lead off this week with a curious choice — so curious that one wonders whether there was a rights issue involved, or whether Robert Smith traded access to this particular song in exchange for nothing more than a vat of makeup and a putty knife. Not that "Let's Go To Bed" isn't a fun song, or representative of early-period Cure, featuring all the catchiness that eventually would propel them off of modern-rock radio and onto the pop charts. But if this is the band's single representation on the seven discs, one wonders why the choice wasn't a mid-period single like "Close To Me" or the obvious mid-'80s pop option, "Just Like Heaven." (Or "Love Song," for that matter, which was the band's biggest hit, though it didn't come 'til '89.)
Dw. Dunphy — I suspect this song is here because, while the Cure may be emblematic of the 80s, some of their biggest charting hits were at the tail end if at all (thinking "Friday I'm In Love," of course. That or it was much cheaper to license this than "Love Song" and they felt it was important to recognize Smith & Co. I'm glad it is here, but as an illustrative device about the decade, the curators of the set was reaching out for straws.
(Addendum — "Friday I'm In Love" was off the Wish album from the '90s. It still remains one of the band's most universally recognized tracks, combating their "80s Band" classification.)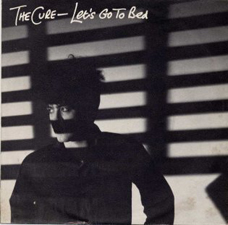 Jack Feerick — So it's not the Cure's biggest single, nor even their best; but it's the one that sounds the most like the 80s. Despite their many, many changes in personnel, the band have largely carved out their own sonic space, hewing to a remarkably consistent sound at least since The Head on the Door — tasty layerings of guitar at the forefront, sparse keyboards in a supporting role. "Let's Go To bed" basically ended their brief foray into out-and-out synth-pop.
And even at that, it's an unusually spare, stark record. The band was down to just Smith and Lol Tolhurst here, and it shows. The funky bass is carrying most of the song, with just splashes and jabs of keys and guitar.
It's a lot more accessible and immediate than some of their other work, but hasn't stood the test of time as well. Which says something about the fickleness of taste, and the way that the slow growers are the ones that last. This — this just sounds disposable.
Dave Lifton — It wasn't until midway through college — about eight years after this came out — that I realized what made them so great. I'm with Jon here. It's a perfectly good song, but it would be a few more years before they would hit their stride.
Asregadoo — All told, this is fine addition to an '80s compilation. You can't stack the deck on a collection like this with only the obvious choices, so to me having "Let's Go To Bed" on the collection of songs is wonderful. The irony, of course, is that Smith wrote this song mocking pop music — and then it became a hit. Was Robert Smith happy with that? Nope. Seriously, is there another band that peaked in the '80s that looked like they were miserable with success?
Dunphy — I forget whether we're getting Depeche Mode in this box later on, but they are in the same boat. Their early stuff was dance-oriented but spiky and cold. They would warm up and find a bigger audience with "People Are People" from Some Great Reward, but their biggest success would not be until '89 into the '90s with the singles off of Violator. "Personal Jesus" and "Enjoy The Silence" are both probably ridiculously pricey 'gets' for a box like this.
So it goes with The Cure, Depeche Mode and a lot of British groups of this time that you sense they are properly of the decade, but really their greatest jolts on the meter are in the dying days of the College Rock scene, stumbling into the nascent alternative rock tsunami.
---
#17 Kajagoogoo, "Too Shy" (1983)
Topped the UK charts; #5 US.
[youtube id="nKWbMJOIkUk" width="600″ height="350″]
Cummings — The horror, the horror. I remember seeing Limahl's hatchet-cropped hair and scary visage staring … not at me, but probably toward his navel … for the first time in one of those UK-produced "Rock Yearbooks" before "Too Shy" came America-ward. And as "Too Shy" took over the radio during the spring of '83 (with me rooting vehemently against it), I figured Limahl was the uber-wimpy, yet somehow logical, extreme result of the Culture Clubbing of pop music that year. This is one of those songs I'll leave a room to avoid, if necessary.
Feerick — It's not that bad, is it? It's got a classic tension-and-release setup — the glide of the verse into the comparatively punchy chorus — but I find myself wishing it had a bit more punch. As it stands now it's a study in contrast between smooth and smoother. There's a bit of jazzy complexity to the ensemble playing in the chorus — the stop-time and the rapid-fire block chords actually remind me of vaguely of "Seven Steps To Heaven," which sounds fatuous, I know, but I can't help it.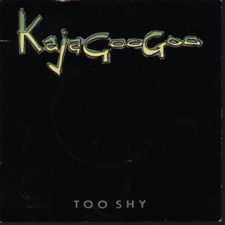 Anyway, it wouldn't be amiss to play that aspect up. Bigger gang vocals, maybe a horn section. They should've farmed out the chorus to Roman Holliday, is what I'm saying, and let the two bands split the groupies.
Lifton — At the time I was pissed off that cable hadn't yet come to my part of town and I had to go to a friend's house to watch MTV. But in retrospect I'm kind of glad, because it means that I can hate this song on its merits and not on their stupid image.
Medsker — For the record, I loved "Too Shy" at the time, and still have a soft spot for it today. Even though they looked ridiculous, and the song has not aged well at all (John Taylor strongly advised against Nick Rhodes producing the track), I was impressed by Nick Beggs' skills on the bass, and those skills have served him well post-Kaja. Ask Martin Fry, as Beggs was his bass player for a while.
Dunphy — I won't make claims to this being great or harshly overlooked by time, but it certainly left an impression on a kid who was taping Casey Kasem's American Top 40 at that stage. It cemented my love for the time period because you would get something of real sophistication and smoothness, stumbling into a great new track from an old stalwart '60s rocker, into this new thing grabbing traction…"Too Shy" was what the pop music landscape was going to sound like in a year or so, and would not be its prime example, but I cannot say it didn't make me smile to hear it again.
What this band winds up being is a more synthy Culture Club with Boy George's vocal quirks but not as much soul, and definitely without his opaque wordplay that sounds like it is supposed to mean something important but reads like a drunken dream journal. There is no mistaking anything lyrically here. This is just a chat-up.
Asregadoo — Let's just bracket that awesome bass line for a moment and set it aside. Okay, now that the cool part of the song has been stripped away, what are we left with? Goo. Simply a lot of gooey warmed-over disco masking as new wave. Boring!
---
#18 Michael Sembello, "Maniac" (1983)
A US #1; one of the highest-grossing soundtrack tie-in singles ever.
[youtube id="iAT4lAbPmpw" width="600″ height="350″]
Cummings — Sigh. Being a huge fan of Fame, the movie and TV show (SHUT UP!), I was more than willing to cut Irene Cara some slack for the Flashdance theme. (Tangent: Get a mental picture of that keyboard-composer dude who was the only student to move from the film to TV. Now, isn't that guy you're thinking of actually MTV's Mark Goodman?)
But "Maniac" was irredeemably annoying — an assault of two-note keyboard hooks and idiotic lyrics (what the hell is a "cold kinetic heat," anyway? and why are the people who create those lyrics websites all so dumb they think "kinetic" is "connective"?). All of that said, by teasing the movie's themes in about 24 different moronic phrases, "Maniac" actually was the perfect '80s soundtrack single, on the soundtrack that became the template for all the blockbusters that followed. So let's give the thing credit. Just don't ask me to listen to it again.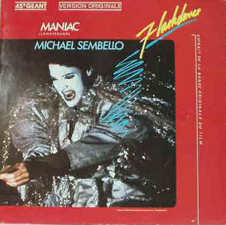 Lifton — I can't be the only one among us who was shocked to learn of Sembello's impeccable credentials — playing with Stevie, The Jacksons, Donna Summer, Curtis Mayfield, and on and on — leading up to this. Call it one of pop's definitive cases of the Peter Principle. On the first (branded) Chart Attack podcast, Jeff was talking about how "Burning Heart" by Survivor (fuck you, Wardlaw) was unusual because it laid out all of Rocky IV's themes in the lyrics. For some reason, none of us brought up this as the template. I hate both songs.
Dunphy — I have terrible memories of the song, beyond just remembering the song. It was a hot, hot summer and I had my first crushing migraine headache during a week in it. I was hospitalized. The room had to be dead dark and dead quiet. Any stimuli made my skull just rage. When I was released, my mom had the radio on very low in the car. This was the song that was on, and could there be any worse song for a headache sufferer than this one.
Leave out the crackety-spastic extra percussion, strip out the neurotic synth lines, just take it on lyrics alone and you still got nuthin'. Frankly, if your dancing is the "fight of your life" and people react to your dancing by all, to a soul, saying you're crazy, you suck at dancing.
Asregadoo — "Just a steel town girl on a Saturday night!" Dumb song, but I think I have to like it at some level because my wife loves Flashdance, and if I diss it too much, I'm afraid I'll be dancing into the danger zone.
Feerick — There's nothing wrong with the music of "Maniac," per se, nor with the words; but as a record, it blows. The basic problem, for me, is that this song doesn't sound manic enough. If you're going to write about the fine line between artistic inspiration and self-destructive madness, the performance shouldn't sound like an excessively polite Stevie Wonder impersonator on a hot night at the Holiday Inn lounge — it should at least threaten to go off the rails at some point. Jack up the drums, tone down the sequencers, put some actual rock n' roll grit into the vocals. More ghost, less machine.
And some actual guitar, please — not just a flown-in solo that stays tidily within the confines of its sixteen bars, but something messy and squalling, fills and feedback seeping into the crevices of the song. The obvious model for "Maniac" is Michael Jackson's "Beat It," a dance-pop song with a screaming guitar lead; but "Beat It" also had great rhythm guitar hooks. If "Maniac" captured some of that same excitement of funk scratch with rock crunch, it would be a stone classic.
And the only time "Chopsticks" works for a bridge is on Manfred Mann's "Blinded By the Light."
---
#19 Night Ranger, "Sister Christian" (1984)
Peaked at #5 US, though it was a Canadian #1. Stayed in the US charts for 24 weeks.
[youtube id="z92bmlcmyq0″ width="600″ height="350″]
Feerick — Night Ranger is probably the last band on Earth that anybody ever expected to go all condescending and sentimental, but here we are. This is what happens when you set out to write a "classic rock" song, instead of just writing something good, something that you feel; you end up with this ungodly hash of clichÁ©s.
Cummings — Bless you, Night Ranger — for is this not the most iconic of all the hair-metal pop singles? Arriving, as it did, near the peak of the Moral Majority's takeover of Republican politics – and just months before Tipper Gore launched the PMRC — "Sister Christian" seemed simultaneously earnest and ironic, meant to be taken seriously and a complete joke. And it became an anthem of piety and chastity for millions of girls …
Medsker — It did?
Lifton — Well, that's what they all used as an excuse when he tried to pick them up….
Cummings — Please. Any girl I got in those days was already far from pious or chaste. I won't even bother with a retort against Lifton, because he's embarrassed enough already.
Perhaps it would be closer to say the song served as an anthem for girls who were holding onto chastity (or the illusion of same) by the tips of their fingernails? And for millions of boys, it was an incitement to find such girls and snatch away that innocence, or at least mock the hypocritical piety that demanded it. (All of which takes the song's perceived meaning light years beyond its actual intent — which was Night Ranger's drummer writing a simple song to his sister Christy, and singer Jack Blades mistaking "Christy" for "Christian.")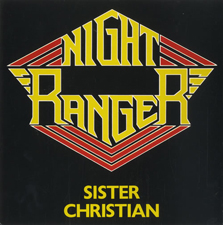 I wonder if some horndog grad student of the late '80s or early '90s ever wrote a thesis exploring the themes of religiosity and the "fallen woman" in "Sister Christian" and "Only the Good Die Young"? I wish I had.
Dunphy — Say what you want about this song, and I know we have on many occasions, but it produced one of Paul Thomas Anderson's best cinematic moments in a veritable homage to Scorsese pinning Jackson Browne's "Late For The Sky" to Taxi Driver. And when the singing isn't going on or you're not trying to figure out what the hell kind of point these people are trying to make with the song the track has a genuinely good power ballad instrumental break — not flashy, but you do get that momentary adrenalin blast that was intended for such a moment. I'm not saying this is a great track for the ages, but I can see why some have a freakish devotion to it. As guitar-driven rock from this time goes, it's perfectly suited to what it aimed to be.
Lifton — Its use in Boogie Nights is its sole redeeming feature, except that it also means that I can't hear it without thinking of Alfred Molina wearing a bathrobe and a Speedo doing his impression of Jonathan Cain in the "Separate Ways" video.
Asregadoo — I couldn't figure out why Night Ranger — who came onto the music scene with the rocker, "Don't Tell Me You Love Me" — would release a power ballad like this. I was starting out in the radio biz in 1983, and my job was basically a board-op (or "bored-op"). What's a board-op? Well, this is the poor soul who plays all the music, sweepers, and commercials, but doesn't talk on the air. Before computers took over and automated airshifts, many radio stations had to hire human button-pushers. That was me. And when this song came up in rotation at 2 AM, I had to skip it because no amount of coffee could stop the somnolent-inducing quality of it — not even the build up to the chorus.
But after I got off the overnight shift, that's when my opinion of the song changed. I grew to like over-the-top emotional quality, and happily sang (off key) to the tune when driving in the car. Perhaps "Sister Christian" would have remained a kind of "Oh yeah, I remember that one" song if it wasn't for Boogie Nights… But its popularity has remained, and, in a way, the song gets a similar reaction as "Don't Stop Believin'," among a certain sector of white folks at wedding and even high school dances. So congratulations, Night Ranger. You beat Journey and can proudly claim "Hey, we were first!"
Lifton — I just hope it was playing on the stereo the first time Kelly Keagy's sister got laid.
Asregadoo — Boner-killer.
Lifton — But that's always been my issue with the song. Keagy thought he was doing a nice thing for his kid sister, but probably the reality was that she had to have this song playing in her head throughout her adolescence. Meanwhile, every boy she knew was lining up to be the first to nail Sister Christian.
Asregadoo — Okay, let's do the math on this: According to the Wiki on Keagy, he was born in 1952. This song was written for his sister, Christy, who was born 10 years after he was. So, in 1984 — when this song peaked — she was 21 or 22 years old. College years, my friend. College years…
She may have been motoring long before this song was written. So probably no bragging rights for guys who hooked up with Christy Keagy in 1984.
Dunphy — She probably was. But her personal PR at the time probably was a long-winded mess.
"I know we just met, and this is crazy, but I'm the younger sister of drummer/songwriter Kelly Keagy from Night Ranger and he wrote 'Sister Christian' about me…" By that time in the conversation the guy might have just as well walked away and found a less complicated sorority sister to motor. So, by causing this song to be attributed to her, he in turn made it more difficult for her to hook up after all the explainin'…which makes Kelly Keagy a frickin' GENIUS.
Cummings — What I like is how Dunphy imagined Christy's "personal PR" with a slight paraphrase of the first couple lines of "Call Me Maybe": "Hey, I just met you, and this is crazy / But I'm Sister Christian / So motor me, maybe."
Asregadoo — Wait. Christy Keagy is Carly Rae Jepsen?
Feerick — NOW IT CAN BE TOLD.
Keith Creighton — Has anyone heard Jesse Malin's incredible "Sister Christian (Where Are You Now)?" Sure, writing a sequel to someone else's song is rock n' roll fan fiction, but in this case, the results are quite glorious.
Feerick — What, better than "Major Tom (Coming Home)?" BOLD WORDS, friend.
Brian Boone — Oddly it has the same plot as Charlie Daniels' "Uneasy Rider '88."
Dunphy — Makes me wish someone had recorded "George, You Can Have Layla Back."
---
#20 Quiet Riot, "Cum On Feel the Noize" (1983)
The first of Quiet Riot's Slade covers. Hit #5, and propelled the album Metal Health to #1.
[youtube id="AQoAi4QcW0c" width="600″ height="350″]
Cummings — In the midst of an itchy bout of Anglophilia during the very-early '80s, I tracked down a Slade greatest-hits album because I wanted to know what all the fuss over there (and the complete lack of fuss over here) had been about during that band's early-'70s heyday. (And I wanted to know what songs sounded like that had such messed-up spelling in the titles.) Then, less than a year after I came Quiet Riot, seemingly intent on nothing more than having the US career that Slade never had. And wouldn't you know it, they succeeded for five minutes — proving little else than the fact that hair metal wasn't just a watering down of real metal for the masses, it was a grave-robbing of British bands that had watered down both metal and glitter rock a decade earlier.
Feerick — Thing about Slade, though, is that they were dirtbags by design. Noddy's whole shtick was that he was a gurning bumpkin, a half-educated toothless yobbo with barnyard shit on his lamÁ© platform boots. The stupidity was knowing pose.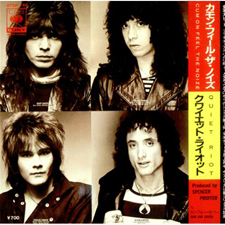 Quiet Riot's, though, seemed all too plausibly real. Kevin DuBrow's obnoxiousness has become the stuff of legend, and while I didn't know anything about his rep at the time, I could probably have guessed that he was an asshole just by watching this video.
Lifton — This and "We're Not Gonna Take It" were about as close as I got to liking heavy metal at the time. I still dig both of them.
Dunphy — Do you know why this was so popular with kids in the '80s? I'll tell you why. Because every dingus who heard it on the radio had to buy the album to find out if Kevin DuBrow was actually singing, "Girls, fuck your boys." At least that was the conversation du jour in my school at that stage. Did he say it? Didn't he? It's a naughty word in a radio rock song! So taboo! Twenty years later and it wouldn't matter a whit.
As a bad boy anthem, it fits the bill. This and (as Lifton said) Twisted Sister's "We're Not Gonna Take It" were the two signifiers of "real attitude rock" at the time. AC/DC had graduated into more of the classic rock pantheon by now — even though they were fugly too. Beyond that, you had your actual metal — Ozzy, Maiden, Priest, the impending Metallica; even King Diamond was starting to draw upside down crosses on his face.
On the opposing side, the pretty boys were beginning to make glam a little meatier. You had Motley Crue shouting at the devil while looking like your mom at the wedding reception after the punch kicked in. Poison would be around the bend and when all was said and done, it would be the teased-out mascara rockers that would define the latter half of the decade's hard rock.
Had Quiet Riot decided to put this out only two years later, they'd probably have been regarded as too dang ugly to bother with, and it wouldn't matter how many Slade covers they redid.
Speaking of which, did Quiet Riot ever cover Slade's "Merry Xmas Everybody"?
Asregadoo — I forgot that Kevin DuBrow died in 2007. I was going to say something about his hair transplants (or maybe it was a wig) he was sporting after he rejoined the band, but out of respect for the dead, I'll just say that the popularity of "Cum On Feel the Noize" was a low point in hard rock. It seemed that with the success of melodic hard rock with a metal patina (i.e., Def Leppard), the door was wide open for something like this. Yes, the song is catchy — and why wouldn't it be, it worked for Slade 10 years before — but it felt so sterile and packaged that I just groaned when it came out and became a hit.