That's all, amen, close the door. It's the last roundup. The last tracks of the last disc of this seven-disc retrospective set.
Before the final rundown, I need to drop the editorial "we" for a minute, and speak as myself. I've had a great time over the last half-year, putting this bad boy together every week, and I thank you all for doing it with me. I must acknowledge Dave Lifton, Dw. Dunphy, and Jon Cummings — who've been in there for every installment with me, knocking it out week after week — and to everybody else from the Popdose crew who's dropped in along the way: to Rob and Boone and Chris and Keith, who stuck it out the longest; to the Matts and the Dans and the Mikes and the various Other Daves, to Joel and Annie and Will and Thierry and Ted, and to Jason and Jeff, and to Cory Frye for a little bit of inside baseball on the mailing list. You've all brought something to the party, even if it was a single perfect observation (or a single perfect Mom joke), and you've never failed to make me think once more about these already-too-familiar songs.
A shout out to the comment crew, without whose we could never have done this, without whose enthusiasm we would never have even tried. Some of you are miracles, and some of you are assholes — but though you might have been a headache, you never were a bore. Wizards and true stars, each and every one of you. Thanks.
And if you like what you've heard and what you've read, remember: Even though this box set is currently out of print, you can still support the people who made the music. Almost all of the artists who contributed to this set have had careers beyond their one hit single; indeed, many of them are still making music today. The beauty of iTunes and single-track downloads is that you can dip into an artist's back catalog and investigate their output for not a lot of money.
So if any of these tracks ring your chimes, this is a great opportunity to explore further. There might be a whole body of amazing work just waiting for you to uncover it.
We're done digging through this box of delights. But think what you might find, if you dig a little deeper…
— Jack Feerick
---
#16 Los Lobos, "La Bamba" (1987)
A Number One hit in ten countries; Top Five just about everywhere else.
Jack Feerick — This is about the moment where somebody climbs up on their rock critic high horse and tells us all how unfair (and probably racist) it is that this Richie Valens cover is Los Lobos' biggest hit, and David Hidalgo is an underappreciated genius; and here's where I tell em to cram it, because the self-evident truth is that there's more fun packed into these three minutes than in the running times of How Will the Wolf Survive and Kiko put together.
Jon Cummings — Leave it to Los Lobos to simultaneously sell out, and get a Number One pop hit, while remaining absolutely true to themselves. And leave it to them to record a set of '50s covers for a movie soundtrack, leaving their own terrific songwriting behind, and to have the result be recordings that not only advanced their own career arc, but brought Hispanic musical culture to a mass audience in a way that even Ritchie Valens himself didn't manage. The entire "La Bamba" soundtrack was really hot — Howard Huntsberry's "Lonely Teardrops" was a revelation, and Marshall Crenshaw's rave-up on "Crying, Waiting, Hoping" worked brilliantly. But to the extent that Los Lobos got a few tens of thousands of additional listeners for albums like La Pistola y el Corazon and Kiko out of their work here … well, the world's a better place for it.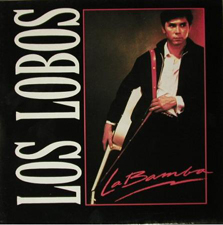 Dave Lifton — Great cover, and it was cool that they also had that traditional bit tacked on at the end, even if rock radio usually cut it off. Even though they were more or less a one-hit wonder, I love that they've followed their muse and, more often than not, put out something good.
And I hope my dream of a David Hidalgo-Emmylou Harris duets album comes true one day. Can anybody here make that happen?
Dw. Dunphy — I believe what galls me about this is that it is a matter of capacity. I am a big Lobos fan, and have recognized for years just how capable and talented they are. They are as artsy and, in some sense, as "progressive" in their rock and fusion as many of the most overt prog bands could ever be. A lot of what now constitutes the T. Bone Burnett myth started with his producing their By The Light Of The Moon album. And unlike Lifton, I do believe it smacks of something altogether else that the only shot they ever had at the top ten was with "La Bamba." At the same time, it is tons of fun, and they're having fun doing it. You can tell, right off the bat that Hidalgo, Rosas, Berlin and Co. had a blast being able to not only lift up Richie Valens, but in being subversive by throwing in the traditional sound at the end.
Feerick — Well, that's me put in my place then. Next!
---
#17 The Escape Club "Wild, Wild West" (1988)
The only song by a British artist ever to reach #1 in the US while never charting in the UK.
Dunphy — I haven't thought about this song in 25 years…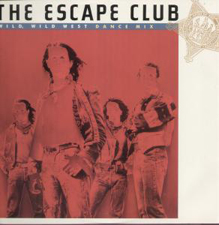 Feerick — You lucky son of a bitch.
Lifton — You know why this didn't chart in the UK? Because they were smart enough to know that this was a weakened take on "Pump It Up," which didn't have that shitty toasting in the bridge. Fuck this noise.
David Medsker — Lifton said everything I was planning on saying about "Wild Wild West."
Feerick — Lifton has said everything worth saying about this. Utterly shiteful.
Cummings — Here is Exhibit A for my argument, "Why The Late '80s Were The Worst Years Ever For Pop Music." I could go on and on with this subject, but honestly, the horrific-ness of Escape Club says more than my words ever could. I graduated from college in 1987, moved home to southwestern Virginia for awhile, and got wrapped up in a discovery of the local culture that I had never bothered with as a kid — from Child ballads and the Carter Family forward.
Whether my newfound interests skewed my perspective of the radio hits of the era … or whether it was the god-awfulness of late-'80s pop that sent me searching for something else … I'm not sure. But I truly loathed pop radio in the late '80s, and when I think back on it, "Wild, Wild West" (and maybe that Paula Abdul video with the cartoon cat) are the first horrors that come to mind.
---
#18 Bobby McFerrin, "Don't Worry, Be Happy" (1988)
Reached #1 on the Billboard charts — the first a cappella song ever to do so. Also topped the charts in Australia, Canada, Germany, and Austria.
Feerick — So, Meher Baba. We meet again.
Lifton — A great gimmick, but a lousy song.
Dunphy — Sure, it is a gimmick stocked with a premise that is inherently flawed (being either "fake it 'til you make it" or "denial is worthwhile"), but it's better than "Kokomo."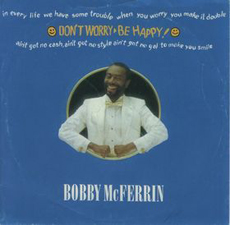 Cummings — My distaste for "Don't Worry, Be Happy" begins with its use as George (not-yet-H.W.) Bush's campaign theme song in 1988. It was the perfect song with which to advertise that campaign, whose subtext was, "Don't mind all those homeless people, the AIDS virus we've done fuck-all to stop, or the mountains of debt we've racked up … let's keep the Reagan era going for four more years!" It didn't help that this song effortlessly dominated the radio at the same time that Tracy Chapman's "Fast Car" was offering the flipside of Bush's happy-happy-joy-joy BS (and lodging just outside the Top 5).
So I've spent the last quarter-century equating Bobby McFerrin's biggest moment with "a kinder, gentler nation" and "a thousand points of light," and finding its breezy tone completely off-kilter with the real-world portraits offered by songs like "Fast Car" and 10,000 Maniacs' "Dust Bowl Days." Of course, resenting the gung-ho attitudes of the Reagan era while shrieking "What about the oppressed?" (to quote the favorite phrase of an overly pedantic college friend) was a common affliction among leftists during the '80s, and one that kept us firmly in the minority throughout the decade.
Doesn't mean we weren't right, though.
Feerick — It's hard to remember now how utterly charming this seemed at the time. Bobby was a serious jazz guy — well, he was always a playful performer, but serious about the craft — and nobody was expecting him to blow up huge. "Don't Worry, Be Happy" is (still!) technically impressive, but musically slight — far too slight to stand up to incessant repetition over the last 25 years. Whatever charms it had are lost forever now to Time. There are simply no more surprises left to be found, even in a close listening.
---
#19 Richard Marx, "Right Here Waiting" (1989)
#1 US, #2 UK.
Cummings — And here's Exhibit B (actually, maybe Exhibit E or F) for my previous argument. I have no use for the music of Richard Marx. Never did. His "rockers" were utterly inauthentic, his ballads hopelessly drippy. Yuck!
Lifton — I have been advised by my lawyers to not comment on this song.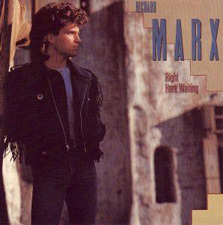 Dunphy — When I first heard this song, my only thought was, "This is the guy that gave us 'Don't Mean Nothing'?" By the end of the '80s, even though it would be a stretch to say Marx's music was at all muscular, even what it was had been reduced to this emasculated mush. This is about as stirring as a freezer that has lost power for 24 hours, and the contents are strting to drip, drip, drip on the floor.
Feerick — But it's so pretty! The only thing that could make this song better is if it had a real piano, instead of the DX7. And if the strings were real.
And the bass.
And if the words and music were all different, and someone else was singing.
---
#20 The B-52's, "Roam" (1989)
Peaked at #3 US.
Lifton — I know the very mention of the B-52's give Jeff and Jason nightmares about fruitcake, but I've always dug their hits. And it was great to hear them back on the radio again after being away for a few years.
Feerick — A good choice to end, because it wouldn't be the Eighties without the B-52's, but also because the Cosmic Thing album belongs conceptually to the 1990s, just as "Video Killed the Radio Star" belonged to the 80s even though it came out in 1978.
The Eighties were simultaneously about hedonism and fear — partying to keep the existential despair at bay. Some, like Prince, were able to acknowledge the darkness even as the danced their lives away. Some, like the B-52's, danced to spite the darkness, and never spoke its name.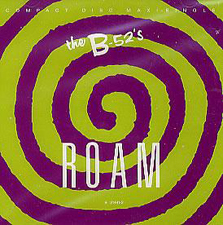 But by the time of Cosmic Thing, it was apparent both that the economic good times were over, and that, with the Cold War winding down, we probably weren't going to perish in that instant nuclear fireball. The world was still ending — it always is, it always has been — but it was ending one life at a time. Ricky was dead. AIDS was cutting a swath through the gay community, and the slow grind of entropy was wearing on.
And the B-52's — the quintessential party band, the last place you'd ever look for sober reflection — had gone from the unhinged joy of "Song for a Future Generation" to the paranoia of "Channel Z," which regarded the future with naked dread; gentler songs like "Deadbeat Club" and "Love Shack" were steeped in bittersweet nostalgia for the good old days in Athens.
And "Roam" takes the escapist subtext of all their music and makes it the text. For an uptempo song, it's remarkably gentle and beautiful, but the message isn't pretty: Get out while you can.
Dunphy — The arc of the B-52's is a strange one in the context of the Eighties. Feerick is dead right in that this hardly feels like an '80s song, as it hangs on the edge between the decades. They felt the same way early in their career, like a bridge between the '70s and nacent new wave and punk. In that, they're a lot like a southern Devo, but Devo didn't have the kind of resurgent career arc like the B-52's had. They are probably pop's last huge comeback stars. Nobody expected "Love Shack" to be a big deal. It was, but it also seemed to share more of the group's original quirkiness. "Roam," on the other hand, is an excellent tune but is probably one of their most conventional offerings. Listen to it divorced from everything you know about the band, and you'd swear it could have been The Go-Gos. That's because of Cindy Wilson and Kate Pierson, clearly, and largely the lack of Fred Schneider.
Cummings — I'm not buying into Jack & Dw.'s "this is '90s music" thesis, even though "Roam" itself was released at Christmastime '89, and was a hit during the winter of '90. Maybe my perspective is colored by my memory of the first time I heard it — on the dance floor of a hopelessly dated discothÁ¨que at the New York Hilton on 6th Avenue, where I used to work at a performing-arts booking conference every Christmastime. That disco had been torn out by the following holiday season, leaving those memories planted firmly in the '80s.
In any case, there's a nice symmetry in "Rock Lobster" having hit during the spring of '80 and "Love Shack" and "Roam" having capped the substantial part of the B-52s' career during the fall of '89. ("Good Stuff" doesn't count, because it wasn't.)
As for "Roam" itself, I adore it. It was glorious to hear Kate and Cindy's voices soar un-ironically over Keith's ringing riffs and those Archies-esque handclaps. I have no idea what Jack's talking about when he says "the message isn't pretty: get out while you can" — I hear nothing but positivity in this song, whether taken literally (as an exhortation to see the world) or figuratively (as a sexual come-on). Sure, it's almost absurdly conventional compared to their earlier hits — but it's also the moment when even non-fanboys had to stop and recognize that Kate Pierson has a remarkable voice.
Feerick — Now there's a shock. Jon disagreeing with me? Wodathunkit? There's your symmetry, folks: Let us end as we began.