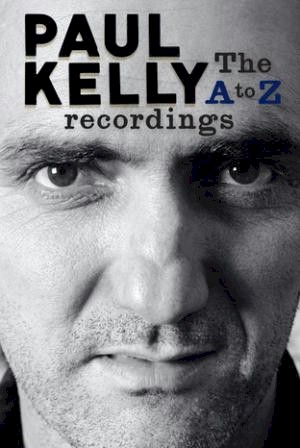 Great news from Australia: Singer/songwriter/international treasure Paul Kelly has a massive new box set, called The A-to-Z Recordings, containing a whopping 105 songs, across eight—count 'em, eight—CDs. A great bulk of Kelly's prodigious output rests therein, in sterling live acoustic performances, organized in alphabetical order (wanna know why? Check out the Popdose Interview with Kelly in a couple weeks). Yes, you get "Dumb Things," "To Her Door," "How to Make Gravy," "Love Never Runs on Time," "Adelaide," and even "Every Fucking City." And 99 others.
Great news from Popdose: We have a copy of The A-to-Z Recordings to give away to one lucky Popdose reader. To enter, all you have to do is drop me an email with the subject line "Paul Kelly," and your name and mailing address in the body. Do so before Thursday, March 8, at 5:00 PM ET, when I'll pick one email at random while listening to "Sweet Guy" and drinking a Foster's oilcan; the sender of said email will have the set delivered to his/her door.
Since we at Popdose would rather drink a steamy cup of Santorum than share your information with others, I will personally delete all received emails after the winner is selected.
If you're a fan of Paul Kelly, you need to have this. If you're a songwriter, or fancy yourself to be a songwriter, you need to have this—it's a virtual clinic on form and content, not to mention performance.
Hell, if you appreciate music, you need to have this. Whaddya waitin' for?
Wanna hear some of it? Here's an eight-track Soundcloud sampler for you to check out.
Wanna see Paul Kelly live? He's on tour in the U.S. this month:
March 3 PITTSBURGH, PA Club CafÁ©
March 4 CHARLESTON, WV Mountain Stage
March 6-9 NEW YORK, NY Rockwood Music Hall — Stage 2
March 11-12 VIENNA, VA Jammin' Java
March 14-15 PHILADELPHIA, PA World CafÁ© Live
March 16-17 CAMBRIDGE, MA Passim
March 20 LOS ANGELES, CA Largo at the Coronet
March 22-23 SAN FRANCISCO, CA Swedish American Hall
March 25-26 SEATTLE, WA Triple Door
March 27 PORTLAND, OR Alberta Rose Theatre
And while we're at it, here's a video of Kelly, playing the title track of his fine Deeper Water album: