Before we kick off today's round of exquisite Mellowmas torture, how about some discount music and a contest? Our friends at Rhino are celebrating the Twelve Days of Chri — er, Rhino, and for the second day, they're not only offering a whopping 40% discount on the essential What It Is! Funky Soul And Rare Grooves box, but they're giving away a $25 promo code to one lucky Popdose reader! Here's what you need to do to enter:
Visit the Rhino site and find the Christmas ornament that puts the "hey, hey" in your holidays. Then email the answer to Michael Parr with the subject line "You should see what your wife is wearing right now." Our winner will be chosen at random, and all entries must be received by noon PST tomorrow. Good luck!
---
Jason: Oh, look, Jeff. Wilson Phillips released a Christmas album. Just what none of us were waiting for.
Jeff: Remember how Jellyfish broke up after two albums?
Jason: Don't remind me.
Jeff: And yet here we are, 20 years after Wilson Phillips' debut, and they keep resurfacing. And even worse, their albums are total shit. Remember the last one?
Jason: Was that California?
Jeff: It was.
Jason: I vaguely remember an Eagles cover.
Jeff: Who does that? Who releases a crappy album of covers more than a decade after their last record?
Jason: …Artists who couldn't write songs in the first place and have lost the budget to hire good songwriters?
Jeff: They go away just long enough to trick you into thinking they're gone for good. And then wham! Back with something even shittier than before.
Jason: Oh, you got me excited there. I thought Wham! was getting back together.
Jeff: Not even Wilson Phillips has any use for Andrew Ridgeley anymore. I don't know what's next for them. A live album?
Jason: I hope not. Matt Wardlaw sent me a Wilson Phillips live bootleg a few months back. And worse, I actually listened to it.
Jeff: I'd forgotten about that. Wasn't it from this year or something?
Jason: Yes.
Jeff: You guys have lots of problems.
Jason: It wasn't terrible, but it wasn't great either. The biggest problem was that I listened to it two days before my triathlon, and wound up with "You're In Love" in my head the whole race.
Jeff: Did they do that song about their housekeeper?
Jason: What song is that?
Jeff: I think it was called "Goodbye Carmen."
Jason: Ha ha ha ha ha ha!
Jeff: Or maybe the full title was "Goodbye Carmen (Make Sure You Folded the Toilet Paper the Way I Like It)."
Jason: You think Wilson Phillips can still afford housekeepers?
Jeff: Well, I think Jesus takes care of Chynna's housecleaning needs.
Jason: Easy, Jeff, or a Baldwin is going to invade our comment section.
Jeff: Sample "Goodbye Carmen" lyric: "And her eyes are like skies that will rain / But there's work to be done, and she does not complain"
Jason: That's poetry.
Jeff: "Goodbye, Carmen / Hasta maÁ±ana or who knows when (it all depends)"
Jason: You write like you actually know this song. I feel bad for you.
Jeff: Google is a powerful thing. Also, it's probably the only adult contemporary ballad about a maid. I mean, unless you count Richard Marx's "Angelia."
Jason: SHUT UP
"ANGELIA" IS A GREAT SONG
ONE OF HIS BEST
Jeff: "Goodbye Carmen" is just about the only thing I remember about Wilson Phillips' second album. That and the sight of Carnie on the beach in flowing lingerie.
Jason: There goes breakfast.
Jeff: You may throw up, Jason. But you won't see her cry.
Jason: Well, now that my stomach is empty, I think it's time to listen to a song from this new Christmas album.
Jeff: Christmas in Harmony!
Jason: I wonder how long it took them to come up with that title?
Jeff: I wonder how long the three of them were actually in the same studio for this?
Jason: I took a sneak listen to their cover of the Beach Boys' "Our Prayer." (Which, by the way, is not a Christmas song.)
Jeff: Didn't Carnie and Wendy do their own Christmas album in the '90s?
Jason: …did they? And if so, why haven't we covered it?
Jeff: Because you keep refusing my request to make Mellowmas 365 days long?
Jason: Oh look, apparently I had some breakfast left. And there it goes.
Jeff: Wendy and Carnie also made an album with their dad, renowned fake keyboard player Brian Wilson.
Jason: snicker
Jeff: Maybe "Our Prayer" was on that. Or left over from the sessions.
Jason: Well, honestly, "Our Prayer" was excellent.
Jeff: I don't think anyone has ever accused these women of not being able to sing.
Jason: That's true.
Jeff: I wonder what their prayers are at this point? Carnie: Another talk show.
Jason: Wendy: Stay hot.
Jeff: Chynna: Painful death for Matthew Bolin.
Jeff: As uninspired as this album's title is, I have to hand it to Wilson Phillips for coming up with an interestingly titled original number: "Warm Lovin' Christmastime."
Jason: …that wasn't on the Keith Sweat Christmas album? Seems like Keith Sweat would be the one to give us warm lovin'.
Jeff: I think that was a Jeffrey Osborne cover, actually. Plop!
Jason: Okay, let's give it a listen. We've made our readers wait long enough. If we still have readers.
Jeff: I doubt they're in any rush, but okay.
Jason: Ready?
Jeff: Yes. But no.
Wilson Phillips — Warm Lovin' Christmastime (download)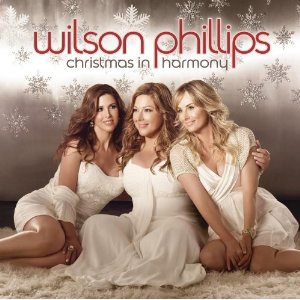 From Christmas in Harmony
Jason: Ooh, poppy.
Jeff: Harmonies! Is this Carnie?
Jason: I think that's Carnie singing lead. Well, now it's Chynna.
Jeff: Was it Chynna or Wendy? I'm so confused.
Jason: I don't know.
Jeff: It's you and me and a warm lovin' Christmastime, Jason!
Jason: This is kind of fun, actually. This isn't that bad.
Jeff: Look at this! Mellowmas has just started, and you're already brain damaged.
Jason: What? It's fun! I'm bopping my head! Tapping my foot!
Jeff: I think all those harmonies are keeping you off balance.
Jason: The production sounds pretty good!
Jeff: They're going to write their names in the falling snow.
Jason: I know where you're going with this!
Jeff: I can't help but imagine Wilson Phillips running around peeing their names in the snow.
Jason: "Warm Squattin' Christmastime."
Jeff: Guitar solo! Is that you, Joe Walsh?
Jason: They're writing their names in the fallen snow AGAIN! Their lady bits are going to freeze!
Jeff: Mod-u-la-tion! It's their favorite time to prove that it's true when they say that they need ya!
Jason: Oooh, creative bassline, too.
Jeff: Why isn't this song over already?
Jason: I feel like I've already failed. I'm pretty sure I'll listen to this song again.
Jeff: 2010: The year Mellowmas finally breaks Jason.
Jason: Look, I'm not going to lie just to entertain our readers and piss off a Baldwin. I'm honest. I liked it.
Jeff: By December 15, your wife will come home and find you sitting cross-legged on the floor, in a puddle of your own urine, listening to Teddy Pendergrass' Kwanzaa song.
Jason: Oh, didn't I tell you? That happened on December 29th of last year.
Jeff: Warm lovin' Christmastime came early!
Jason: I was shivering in a corner, singing Shelley Duvall Christmas songs.
Jeff: I kind of feel like Wendy is maybe ten years away from turning into Shelley Duvall.
Jason: Why you gotta hate on Wendy?
Jeff: What does she do between Wilson Phillips reunions, anyway? It's like she doesn't even exist.
Jason: …waits for Wilson Phillips reunions?
Jeff: How have we not seen her on her own infomercial yet?
"Hi, I'm Wendy Wilson for Magic Bullet."
"Hi, I'm Wendy Wilson, and this is the Wilson Phillips Holiday Slanket."
Jason: I would totally buy a Wilson Phillips Holiday Slanket! It would keep me both warm AND lovin' this Christmastime.
Jeff: Those words may come back to haunt you.
Jason: Look, I know I'm supposed to hate everything that comes our way, but I didn't hate this song. That's all I'm saying. Did you hate it?
Jeff: I think "hate" is probably too strong a word, but it did make me feel kind of queasy. There's something about a song that starts with a Carnie lead. I don't know. It's like her voice is coated in butter. And not in a good way.
Jason: Poor choice of words.
Jeff: Like, bottom-of-the-popcorn-bucket coated in butter.
Jason: Oh look! More breakfast left!
Jeff: I'll totally admit that they sound fine together, but I think this song sucks in much the same way most contemporary holiday songs do.
Jason: Enlighten me. Because maybe this is what's wrong with me. I like this stuff.
Jeff: Yeah, I don't know. While you're bopping your head, I'm listening to these lines about holly and warmth and peeing in the snow and thinking that it sounds like a cynical rehash. I imagine a pair of dejected jingle writers getting together in a hot studio loft in July:
"What's on the schedule for today, Jim?"
"Not a fucking thing except this Wilson Phillips album."
Jason: A rehash? That's what ALL Christmas songs are! Rehashing the past! Unless you're talking about current events, and then you're Judy Collins.
Jeff: A Wilson Phillips cover of "Christmas in Sarajevo" would have been interesting.
Jason: Do they have a checklist in the studio? Jingle bells? Check.
Jeff: Holly? Check.
Jason: Peeing in the snow?
Jeff: Knowing most of what's in store for us this Mellowmas season, I can say it's full of unpleasant surprises, but finding out Wilson Phillips was still together might have been the worst one for me. And that includes seeing the words "Glee Christmas album" on the release schedule.
Jason: What? NOOOOOOOOOOOOOOOOOOOOO
Jeff: Oh, you didn't know? Surprise! How long before Glee does a Wilson Phillips episode, I wonder?
Jason: I have to go. My floor is covered in throwup. Readers, while I'm in the bathroom, please weigh in: yay or nay on "Warm Lovin' Christmastime"?
Jeff: I'll be over here, writing my name in the falling snow.
Jason: Get squattin'!
[kml_flashembed movie="http://www.youtube.com/v/kFfE-_Z4sa8" width="600" height="344" allowfullscreen="true" fvars="fs=1" /]