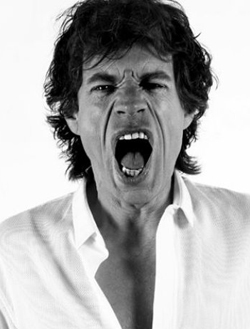 Perhaps it's simply that no band — not even the World's Greatest Rock 'n' Roll Band — can constrain an ego a talent as great as that which blesses Sir Michael Philip Jagger. Perhaps it's the result of an overdeveloped work ethic, a driving need to keep busy during the enforced lulls and layovers whilst his usual collaborator — who always was a touch… erratic, let us say — was sidelined with some malady or other, usually self-inflicted. Whatever the case, His Mickness has been the welcome guest in many another's castle over the years, and today we'll be giving a listen to some of his best collaborations.
But not "Dancing in the Streets" with David Bowie. Oh Jesus God no. Let's just pretend that never happened. Okay?
Carly Simon, "You're So Vain" from No Secrets, 1972)
For years after its release, it was a popular parlor game to guess which showbiz egomaniac was being savaged in the lyrics of this song. (Simon eventually revealed in an interview that she'd been thinking largely about Warren Beatty.) There is no truth to the rumor that Jagger took the gig as backing vocalist as a means of diverting suspicion away from himself, but that hasn't stopped me from trying to get it started for years now.

Leslie West, "High Roller" from The Great Fatsby (1974)
Tucked away on a solo record by former Mountain guitarist West. this one is practically a lost Stones track. A Jagger/Richards co-write (with Mountain's Corky Laing), "High Roller" gets a lift from West's high-energy lead guitar and vocals. That's Jagger on rhythm guitar.

Peter Tosh, "Keep On Walkin' (Don't Look Back)" from Bush Doctor (1978)
Lots of kids go through a reggae phase, because they connect with the social and spiritual messages of the genre — and also because it is wicked party music. This song by Jamaican legend Peter Tosh is both an anthem of perseverance against all odds, and an awesome goof. (And I love the YouTube comment here: "When he [Jagger] is standing next to Peter Tosh and he still looks high, then he must be high." Well-played, dannyd1572!)
[youtube id="3o4Fgh0KW_4″ width="600″ height="350″]
Peter Wolf, "Pretty Lady" from Lights Out! (1984, out of print)
Frontman of a bluesy rock band breaks away for a solo debut touching on club and dance-pop sounds. In a way, the Woofah Goofah's first disc as the name above the title plays like a dress rehearsal for Sir Mick's own She's the Boss, released a year later — which may be why the erstwhile Glimmer Twin lent his pipes to this mid-tempo bouncer; as a way of testing the waters.
The Jacksons, "State of Shock" from Victory (1984)
It was shaping up to be a good year for the Jacksons. Not only did superstar baby brother Michael return to the fold for a new record, he brought another superstar along for a cameo. All signs pointed to success; Tito never had it so good. Then Michael's head caught on fire, and nothing was ever quite the same again.
Tackhead, "Take a Stroll" from Strange Things (1990)
Perhaps Jagger's weirdest collaboration finds him blowing harp alongside this Anglo-American hard-funk outfit that grew out of the original Sugar Hill Records rhythm section (see #44 on this list). This rocksteady-blues hybrid is representative of the album in that it doesn't entirely work, but it shows the interplay of ideas at work in Tackhead's music, and the depths of der Mickster's flirtation with dance-club culture.
Jimmy Rogers All-Stars, "Trouble No More" from Blues Blues Blues (1999)
The Stones — and a whole generation of British youth along with them — were entranced with old American blues records, and Jagger — again, like many of his peers — seized the chance to work with one of his heroes. The Blues Blues Blues sessions would prove to be the last time Rogers recorded before his death; many such projects would find the master in danger of being overwhelmed by the acolyte, but Jagger shows uncharacteristic restraint, letting Rogers dominate the track, and things never get too slick.

John Phillips, "She's Just Fourteen" from Pussycat (2008)
Sometimes I think that God must hate us all, the way He keeps bestowing glorious creative talent on people who are, frankly, insufferable monsters. This solo effort from the onetime Papa John and noted skeevy pervert, recorded in 1977 but not given a proper release until thirty years later, finds him with his melodic gifts intact; Pussycat is a classic example of when good albums happen to bad people. The Glimmer Twins co-produced the sessions; Keith Richards can be heard throughout, and Jagger sings on four tracks, including this, the skeeviest and perviest of the lot, and catchy like herpes.
SuperHeavy, "Unbelievable" from SuperHeavy (2011)
Growing out of Jagger's long association with ex-Eurythmics mastermind Dave Stewart, SuperHeavy is a pan-stylistic musical collective — what we used to call a "supergroup" — also featuring soul diva Joss Stone, reggae scion Damian Marley, and Bollywood legend A.R. Rahman. Talk about your rock 'n' roll circus; that's three rings' worth of talent or more, right there. And like a circus, SuperHeavy is as bold and joyous as it is overloaded and incoherent. Jagger takes the spotlight on a few tracks (e.g. the weeping "Never Gonna Change"), but for the most part, he is one voice among many. And the old aristocrat seems invigorated by this democracy of voices; indeed, he sounds more exuberant and focused than he has in many a year. Perhaps His Satanic Majesty should mingle with the commoners more often.