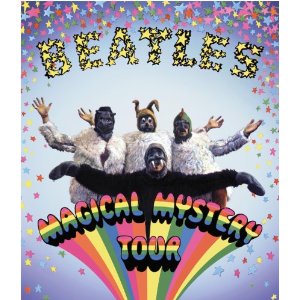 I had never seen this film before. That sounds kind of odd coming from someone who has always considered himself a big Beatles fan and even saw the band live once, back in 1964. Of course I've heard all of the music, and I've seen clips here and there, but I never sat down and watched the entire film before this Blu-ray landed on my desk.
The good news is Magical Mystery Tour was something new to me from the Beatles, and I'm always happy for that. Let's be honest, Magical Mystery Tour is no Hard Day's Night, or even Help, but I don't think anyone ever said it was. It is very much a film of its time, and the word indulgent comes to mind. In fact, Paul McCartney uses that word several times in his commentary, which is one of the new Blu-ray's bonus features. That does not mean, however, that there are not delights to be found here.
"We made it up as we went along as I recall," McCartney says in the commentary, and it's readily apparent when you view the film. That's not all bad however because it results in some charming moments of spontaneity. It does not, however, result in a cogent, coherent film.
McCartney is usually credited with the idea for Magical Mystery Tour, which is unscripted and based in part on dreams that McCartney urged his fellow Beatles to recall. A group of people, the four Beatles among them, get on a bus in London and head west. The film is what happens to them along the way. All of what happens seems to be controlled by four wizards, also played by the Beatles.
Ringo argues with his Aunt Jessie. Jessie (Robbins) falls in love with Buster Bloodvessel (Ivor Cutler) on a beach; an unintelligible army sergeant (Victor Spinetti, a veteran of earlier, better Beatles films) orders people around; a race takes place around an abandoned RAF airfield with with people using all manner of conveyance, including their feet, bicycles, and cars. Ringo wins it by driving the bus. A segment set in a strip club finds the Bonzo Dog Doo Dah Band performing "Death Cab For Cutie." Beginning to get the idea? Yeah, me neither.
As you might expect, the peak moments of Magical Mystery Tour revolve around the music, which is undeniable. Interspersed among the odd sketches that comprise the film are segments featuring the Beatles performing "I Am the Walrus," "Fool On the Hill," "Blue Jay Way," and in the grand staircase, white tuxedo finale, "Your Mother Should Know."
As you might also expect, the audio and video restoration for the Blu-ray are first rate. Giles Martin worked on the music, so it comes with his pedigree. In addition to the McCartney commentary, which is interesting but a bit sleepy, the bonus features include a "making of" doc, and a video of Traffic doing "Here We Go Round the Mulberry Bush," which was cut from the finished film.
The Beatles always intended the film for television. When it was done, McCartney went to the BBC and made a deal in 15 minutes, and for not very much money according to him. The film was shown in England on Boxing Day, December 26, 1967. The reviews from critics were scathing to say the least. The audience didn't like it much either.
So there you have it. If you're a Beatles fan, and who isn't, you're going to want to at least check it out. If you don't like them, Magical Mystery Tour won't change your opinion a bit. I'm glad I finally got to see it, but I don't see myself pushing play on it again in the near future.
[youtube id="tLWzOBTjjL0″ width="600″ height="350″]