Babyface turns 30 this year. Sure, the Man Who Would Be Babyface — Kenneth Edmonds — was born in 1959, but the singer, songwriter, producer, and all-around hit maker extraordinaire began taking baby steps up the Billboard charts the year Michael Jackson's Thriller dominated every chart. Join Robert Cass, Jeff Giles, and Mike Heyliger as they take a look back at the first three decades of Babyface's career, with various detours along the stream of consciousness.
"Rock Steady" by the Whispers [Amazon / iTunes] (written by Kenneth "Babyface" Edmonds, Dwayne Ladd, Antonio "L.A." Reid, and Bo Watson; produced by Edmonds and Reid; from Just Gets Better With Time, 1987)
Robert: I only wish Babyface had had something to do with the System's "Don't Disturb This Groove" the same summer "Rock Steady" broke out.
Jeff: I have an irrational love for this song. I think it has something to do with finding out, well after the fact, that the Whispers had been around forever when they scored a hit with it. Also, it made for a nice radio break between T'Pau's "Heart and Soul," Robbie Nevil's "C'est la Vie," and that entire goddamn ExposÁ© album.
I second Cass's lament for the lack of 'Face involvement in the towering achievement of '80s R&B that is "Don't Disturb This Groove."
Oh shit, is that Questlove in the "Rock Steady" video?
Mike: WE DON'T ALL LOOK ALIKE, JEFF!! … but Questlove is in the video for Boyz II Men's "Motownphilly."
Jeff: Ha! I was hoping you'd say that, especially because that other dude looks like Richard Pryor.
I have to admit that I didn't know until right now that Babyface had anything to do with this song.
Mike: That is just crazy talk. I will say, though, that the Whispers made some horrible videos, like this one for "Keep On Lovin' Me" (1983):
Jeff: That's amazing. I want to remove the audio and replace it with ZZ Top's "Legs."
Mike: You know how to do this stuff. Make it happen!!
Robert: I didn't know Babyface was behind "Rock Steady" either until I found a partial list of his songwriting and production credits on Wikipedia. Just like the Deele and Midnight Star, the Whispers were on SOLAR in the '80s, so I'm guessing that's how 'Face and L.A. Reid ended up producing and cowriting "Rock Steady." According to — what else? — Wikipedia, 'Face also plays guitar and keyboards on Just Gets Better With Time, the album that features "Rock Steady," and the Deele's Kevin "Kayo" Roberson contributes on bass.
And here's another fascinating factoid courtesy of the most indispensable website on earth: Kylie Minogue's "Look My Way," from her 1988 debut album, rips off the bass line of "Rock Steady." But as a commenter on YouTube, the other most indispensable site on earth, pointed out, "Look My Way's" opening keyboard riff is reminiscent of Madonna's 1985 hit "Into the Groove," which Madonna herself cowrote, proving that Babyface was riding her compositional coattails long before they collaborated on "Take a Bow." Case closed! (You didn't even know it was open, did you?)
Mike: Yeah, I think L.A. and 'Face may have been SOLAR's in-house production team for a while. Not that the label had a huge roster, but 'Face worked with Shalamar in addition to the groups already mentioned.
Jeff: SOLAR was amazing for a while. In retrospect it's funny to me how briefly they were hot, because they seemed to dominate radio forever, but it was really only two to three years before their sound went out of style.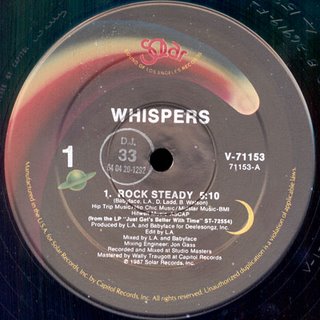 Mike: Well, it was only active as a label for about ten years. Its heyday was, say, '79 to '83 or so, but it spun off a decent hit or two every year from '84 to '90 with latter-day Shalamar, the Deele, and solo Babyface. Plus, "Rock Steady" came out during that period.
Jeff: Did they really do better from '79 to '83 than '87 to '90? Because to me it felt like they owned the radio during that latter era. Shit, they even turned Calloway into a hit act.
Mike: Yeah, the Whispers and Shalamar had their biggest successes during SOLAR's early years; Shalamar alone had four gold albums. And from '84 to '87 the label had Midnight Star and Klymaxx. Man, SOLAR did have a solid ten-year run.
I forgot about Calloway. Sigh …
Jeff: I remember listening to the radio in '92 or '93 and thinking about how royally SOLAR got screwed during the big stylistic shift of the early '90s. They went from everywhere to nowhere seemingly overnight.
Mike: Well, Babyface left the fold, and the Whispers left too. I think that's what really screwed SOLAR. The label's last hit: "Deep Cover" by Dre and Snoop!
Jeff: Wait, what? How did that end up on SOLAR?
Mike: I believe Dick Griffey originally signed Dre post-NWA and actually put up some of the capital for Death Row Records. Then he got strong-armed out of the deal by Suge Knight.
Robert: Was Griffey trying to move SOLAR into hip-hop? In September The New York Times Magazine ran a short interview with Quincy Jones in which he said Michael Jackson never actually told him he didn't want to work together again after Bad: "He told his manager that I was losing it, that I didn't understand the business because I didn't understand in 1987 that rap was dead. Rap wasn't dead. Rap hadn't even started yet." Good point.
A few years ago when WGN was still showing Soul Train reruns, I heard the Whispers' cover of Bread's "Make It With You" for the first time. Not as good as Isaac Hayes and David Porter's cover of Bread's "Baby I'm-a Want You," but further proof that soft rock and R&B became kissing cousins in the '70s.
Just for fun, should I cut to a clip of Telly Savalas covering Bread's "If"? Well, if you insist …
Jeff: You have an odd definition of fun, Robert Cass.
Mike: I refuse to watch that video.
Robert: Just think of it as an Isaac Hayes video, Mike, but with the tint turned all the way up.
Mike: Bobby, you so crazy.
For an in-depth look at Kenneth Edmonds's discography as a solo artist, see Mike and Jeff's Popdose Guide to Babyface. (While you're at it, check out the 1997 Whispers album Song Book, Volume One: The Songs of Babyface, which Jeff and Robert were clueless about until the other day but which Mike says is "pretty good.")