Babyface turns 30 this year. Sure, the Man Who Would Be Babyface — Kenneth Edmonds — was born in 1959, but the singer, songwriter, producer, and all-around hit maker extraordinaire began taking baby steps up the Billboard charts the year Michael Jackson's Thriller dominated every chart. Join Robert Cass, Jeff Giles, and Mike Heyliger as they take a look back at the first three decades of Babyface's career, with various detours along the stream of consciousness.
"That's When I Knew" by Alicia Keys [Amazon / iTunes](written by Antonio Dixon, Kenneth "Babyface" Edmonds, and Alicia Keys; produced by Dixon and Edmonds; from Girl on Fire, 2012)
Robert: Mike mentioned "That's When I Knew" a few months ago, calling it "not bad." I like it too, especially Babyface's accompaniment on acoustic guitar and the way the title is repeated in Keys's backing vocals in the last minute of the song. He told Billboard in November that after being invited to collaborate with her in Jamaica and watching her perform in the studio, "I experienced the full essence of who Alicia is, and a song idea clicked with me right then," adding, "You're never sure of how a collaboration is going to go. But writing with her was so easy. We were on the same page in terms of words and melody."
Jeff: I didn't even bother listening to Girl on Fire when it came out, but I really like "That's When I Knew." It's all craft, man. I love the way you can hear Babyface sitting in his wheelhouse here, falling back on favored chord progressions and melodic tricks, basically daring you not to love the song anyway.
I think Keys is sometimes guilty of using her voice as a blunt instrument, so I'm also really happy about the restrained vocal arrangement here. It suits the song not only on a musical level, but on a lyrical one too: the verses are stuffed with words, and she has to rush to get them out; it ends up feeling like infatuation. Like I said, all craft. I think I might need to buy this.
Mike: It's one of the better songs on a mediocre album. Plus, even though I did Alicia Keys, she needs a lot of help on the lyrical tip.
Robert: YOU DID ALICIA KEYS?!
Mike: "Dig"! I meant "dig"!!
Robert: Have y'all heard comedian Maria Bamford's impression of Keys's midsong phone call in "You Don't Know My Name" (2003), which we briefly touched upon in January when we talked about Lil Wayne's "Comfortable"? Yes, I'm already getting away from talking about "That's When I Knew," but I'm curious as to how many of those soul-song phone calls have been made by female singers. Usually it's a male singer making the call, right? Bobby Brown does it on "All Day All Night," from Don't Be Cruel, for instance.
Mike: I think the midsong phone call was a thing in the '70s. I can remember Shirley Brown's "Woman to Woman" (1974) and "Walking in the Rain With the One I Love" by Love Unlimited (1972), but those are the only ones that immediately come to mind.
Robert: Oh yeah! The only one I could remember from that era was the Honey Cone's "The Day I Found Myself" (1971), but the talking at the beginning of the song isn't part of a phone call, it's more of a pregame pep talk for the female-empowerment anthem that's to come, with one of the members of the group saying, "Men are full of schemes, and they're masters of getting control of our minds and making us dependent on them." Well … uh … takes one to know one! Yeah …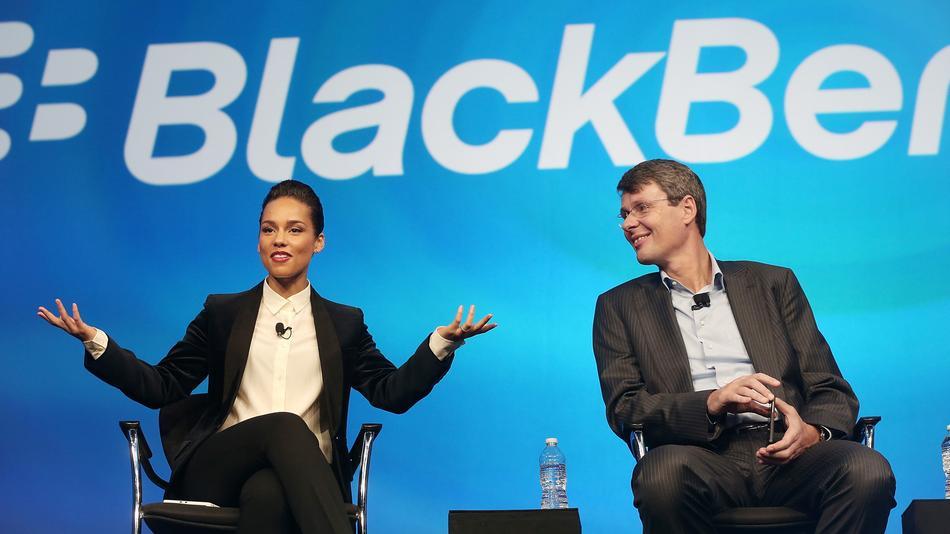 BlackBerry announced Alicia Keys as its new global creative director in January, the same month Myspace relaunched with coowner Justin Timberlake's excellent new single, "Suit & Tie" (although the first 42 seconds should've been left on Timbaland's hard drive). Mike and Jeff, if Babyface could take on a creative role in a once thriving, now struggling tech company, which one would he choose?
Mike: eBaybyface!
Robert: Though I don't think that company's struggling, you still win first prize, Mike.
Jeff: There's no beating eBaybyface, but I think he'd be perfect for TiVo, a premium brand whose value has been diluted by inferior knockoffs. Which R&B/hip-hop producer made a bunch of money using acoustic guitars on his tracks a few years ago? Was it The-Dream? I can't remember, but I hope he's paying Babyface royalties.
Robert: Never owned a TiVo. Or Tevas, for that matter. Nor have I visited Texas, in case you were wondering. But I did enjoy when Maria Bamford's "Comedians of Comedy" tourmate Patton Oswalt talked about TiVo on his 2004 album Feelin' Kinda Patton. And I do think TiVo got screwed in the marketplace, but if it makes their employees feel any better I've never owned any other kind of DVR either. I'm still waiting for VCRs to make a comeback.
Jeff: The only thing I don't like about "That's When I Knew" is the horrible drum program. It doesn't really hurt the track, but c'mon, Babyface — you could have done better.
Robert: Let's unfairly lay the blame on his coproducer. Shame on you, Antonio Dixon! Why can't you be more like Antonio "L.A." Reid and play real drums? And while you're at it, would you please shave your head and wear some boxy, windshield-size glasses? Excellent. Now 'Face can properly rock steady with you.
Jeff, when we talked about "End of the Road" last month you said, "I do think it marks the spot where Babyface started to make the shift from trendsetter to plain ol' mainstream artist." For me that shift was complete one year later on his solo hit "When Can I See You," which probably still gets played every day on certain lite-rock stations, but in '93 'Face sounded like a totally different artist than the one who'd recorded "Whip Appeal" just four years earlier. "That's When I Knew," however, manages to bridge the gap between those two songs, at least in my mind.
Jeff: That's a valid point, but to my memory what made "When Can I See You" stand out was its use of acoustic guitar. Maybe one of you guys will be able to set me straight here, but wasn't Babyface the only artist doing that in R&B at the time? I actually think that's the last time he set a trend.
Mike: Yeah, no one else was doing that in the mid-'90s.
Robert: But "When Can I See You" never sounded R&B to me, whereas "End of the Road" did, probably because of the "whiny O'Jays" aspect Mike mentioned. That's why I thought it was so mainstream back then.
Mike: I remember working in a record store when it was popular. More than a few people thought it was Tracy Chapman.
Jeff: That's fucking funny. And then a few years later when Tony Rich had his big hit, "Nobody Knows," everyone thought it was Babyface.
Robert: Well, similar to how 'Face now works with a new Antonio, the Tony Rich Project was on the LaFace Records roster, and its/his debut album, Words (1995), was executive-produced by L.A. Reid after 'Face and he had stopped writing and producing songs together (an amicable separation, I presume, since they still ran LaFace together after that). I read somewhere that Rich was Reid's protegé, and judging by the sound of "Nobody Knows," the big hit that many people mistook for a Babyface solo song, it's hard not to think that Reid wanted to stick with a proven commodity even if the name of the singer had changed.
Jeff: Either that or he wanted to prove he could score a hit with a Babyface song that wasn't a Babyface song. "See? You're a replaceable part." But I don't know anything about their relationship. I only know that it should have continued forever.
Robert: Drama! I love it. It's like when couples break up and each person immediately starts dating someone of the same physical type.
Jeff: Getting back to "When Can I See You" for a second, are you saying an acoustic guitar-led song doesn't sound R&B to you, Cass? #thasracist
Robert: Not that song, but I love India.Arie's 2001 hit "Video." It's adorable when women think they can play guitar as well as men. #thassexist
For an in-depth look at Kenneth Edmonds's discography as a solo artist, see Mike and Jeff's Popdose Guide to Babyface.