Babyface turns 30 this year. Sure, the Man Who Would Be Babyface — Kenneth Edmonds — was born in 1959, but the singer, songwriter, producer, and all-around hit maker extraordinaire began taking baby steps up the Billboard charts the year Michael Jackson's Thriller dominated every chart. Join Robert Cass, Jeff Giles, and Mike Heyliger as they take a look back at the first three decades of Babyface's career, with various detours along the stream of consciousness.
"A Song for Mama" by Boyz II Men [Amazon / iTunes] (written and produced by Kenneth "Babyface" Edmonds; from the Soul Food soundtrack album and Evolution, 1997)
"Baby's Mama" by Babyface featuring Snoop Dogg [Amazon] (written by Calvin "Snoop Dogg" Broadus, Kenneth "Babyface" Edmonds, and Damon Thomas; produced by Edmonds; from Face2Face, 2001)
Robert: With Mother's Day just around the corner, it's time for 'Face Time to salute yo' mamas, our mamas, and every other mother who's sacrificed her time, energy, money, and sanity to make sure her babies and their faces could live in a world filled with music. Not all of that music is good, of course, but didn't your mother ever tell you that life isn't fair?
Mike: "A Song for Mama" is like musical Ambien. And "Baby's Mama," now that I've refamiliarized myself with it, is just as horrible.
Robert: Like a concerned mother, I demand an explanation.
Mike: "A Song for Mama" means well, but it's just … boring. There's no life to it. Not the production, not the vocals — nothing. Boyz II Men could have, and in fact may have, sung it in their sleep.
And "Baby's Mama" is just fucking embarrassing. It's the musical equivalent of your dad suddenly trying to dress "cool."
Robert: Happy early Father's Day!
Jeff: Goddamn, "Baby's Mama" is dire. It's Babyface's "rapping granny" moment. I'd rather listen to the Ethel Merman disco record. Someone should've wiped the hard drive as soon as Snoop opened with his "rizzle/hizzle/nizzle" rhymes.
As for "A Song for Mama," I'm with Mike. It sounds like what might happen if a music director for a movie or TV series wants a Boyz II Men song but doesn't want to pay for it because it's just going to be background music in an unimportant scene, so he ends up hiring a group of talented-enough-but-anonymous session singers to noodle around on top of some stock synth beds for four minutes and 37 seconds.
Mike: "Rapping granny"!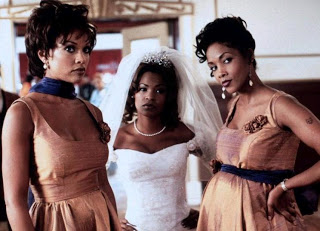 Robert: Jeff, are you referring to the fact that "A Song for Mama" was the lead-off track on the Soul Food soundtrack album, hence the lines "Mama, I just want you to know / Loving you is like food to my soul"? That album was released one week before Evolution, Boyz II Men's follow-up to II, their 1994 album that featured the Babyface-penned "I'll Make Love to You," which spent 14 weeks at number one that year, tying the record set 18 months earlier by Whitney Houston's megahit from The Bodyguard, "I Will Always Love You." The sales figures for Soul Food's soundtrack didn't come anywhere close to those of The Bodyguard's — and didn't even match those of Waiting to Exhale, for which Babyface wrote 12 of the album's 16 songs, cowrote 3 others, and produced every last motherf**king one of them in addition to composing the movie's score — but it still went multiplatinum. ("Babyface is one of the few producers and songwriters who can function entirely on commercial terms and never seem crass," said AllMusic's Stephen Thomas Erlewine in his review.)
The movie was the first to be executive-produced by 'Face and produced by his then-wife, Tracey Edmonds, under their Edmonds Entertainment Group banner, and earned a respectable $43.7 million in the fall of '97. A spin-off series aired on Showtime from 2000 to 2004 and lasted 74 episodes, making it the longest-running drama starring a majority black cast — unless you count that whole east coast-west coast gangsta-rap beef in the '90s. What a bunch of drama queens …
Fascinating factoid time! Soul Food the movie starred Vanessa L. Williams, while Soul Food the TV series starred Vanessa A. Williams (as Vivica A. Fox's character from the movie). The former is the singer of "Save the Best for Last" and star of TV's Ugly Betty and Desperate Housewives, while the latter appeared on the first season of Melrose Place and the critically acclaimed but short-lived mid-'90s series Murder One. Screen Actors Guild rules prevent any two of its members from using the same professional name, but after the issue apparently went to arbitration in the early aughts, both actresses were allowed to drop their middle initials.
Jeff: Speaking of Snoop, here's his latest production …
Mike: Hey man, weed is expensive nowadays.
Robert: A favorite of stay-at-home moms, dads, and everyone in between is back! But this isn't the first time Snoop has contributed to One Life to Live, is it? I seem to remember him saying once in an interview that he used to watch it with his grandmother. (And let's not forget his other latest production, Reincarnated — both the reggae album and the documentary — for which Snoop Dogg, formerly Snoop Doggy Dogg, has rebranded himself Snoop Lion. Jealous much, Johnny Cougar Mellencamp?)
Mike: I vaguely remember reading that he had some kind of story arc on the show.
Jeff: Yeah, he was on shortly before I interviewed One Life to Live's music supervisor, Paul Glass, in March of '09. He played at a bachelorette party and recorded a special theme song for the two or three episodes he appeared in.
Robert: "Snoop says he got hooked on soaps as a child when his mother and grandmother watched daily," wrote The Wall Street Journal's Amy Chozick in December of that year. "'As I said when I was here last time, I've been a fan of "One Life to Live" since I was a baby because my momma always had it on,' Snoop Dogg said in a statement. 'It's cool to come back and hang with Bo Buchanan and the people in Llanview and "rock out with them."'" Well, isn't rocking out what upper-middle-class white people do best?
Mike: I'm going to assume his original theme song had lots of izzles in it?
Jeff: "I try to do right, I try to do right / Because I only got, only got, only got, only got / All that I have is one life to live."
Mike: I wonder how long it took him to write that.
Jeff: I think we all have a pretty good guess.
Mike: This week's selections make me angry.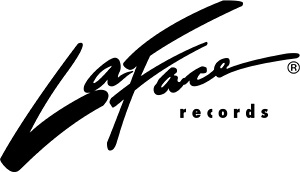 Robert: So I'm the only one who likes "Baby's Mama"? It doesn't need Snoop Dogg's contribution, which might've looked like a desperate grab at street cred in 2001, but as Lil Wayne's "Comfortable" proved seven years later, Babyface was going to receive his due from the hip-hop crowd soon enough, if he hadn't already by helping sign OutKast and Goodie Mob to LaFace Records in the '90s.
Babyface is doing something different with his voice in "Baby's Mama" — I like how he flirts with a Curtis Mayfield-like falsetto on the line "You loved her once and she's got proof" — so how come you buttholes don't appreciate it? TAKE YOUR BALLS AND GO HOME!
[Two minutes later …] My mom told me to tell you I'm sorry for calling you "buttholes" and that you can keep your balls here until you're ready to go home or your moms call, whichever comes first.
Mike: "Buttholes" … "balls" … are you trying to tell us something, Robert? It has been a big week for coming-out stories.
Robert: I knew about Jason Collins, but who else? U.S. senator Lindsey Graham (R-S.C.)? Good for him!
I do want to tell you guys something, though, because my mama taught me to always be myself and be proud of who I am. What I want to tell you is … [overly dramatic deep breath] … I'm immature.
Wow. What a relief it is to finally utter those words. (As for Snoop Dogg, who supports gay marriage, he was asked recently by The Guardian if he thought Frank Ocean's coming out represented, well, a sea change in the rap community. "Frank Ocean ain't no rapper. He's a singer. It's acceptable in the singing world, but in the rap world I don't know if it will ever be acceptable because rap is so masculine," he said. "It's like a football team. You can't be in a locker room full of motherfucking tough-ass dudes, then all of a sudden say, 'Hey, man, I like you.' You know, that's going to be tough.")
Mike: Your announcement is of no surprise to us. We've known you were immature since we met you.
Robert: I was born this way, people — GET OVER IT ALREADY.
Mike: There are other songs on Face2Face where Babyface leans heavily on the falsetto, and they're much better than "Baby's Mama." He also collaborated with rappers before "Baby's Mama" — OutKast and LL Cool J come to the top of my mind — and those team-ups didn't sound as … pandering? Awkward? Of course, one must also consider the fact that OutKast and LL are much higher up on the talent ladder than Snoop.
Robert: Was the version of OutKast's "Jazzy Belle" that features Babyface — "Swift C's Remix," to be exact — the one that was released as a single in 1997? I doubt it because of the radio-unfriendly language, but I'm disqualifying it anyway since it's their song, not his, and though they may have wanted 'Face on the song, he also happened to be their label boss at the time, and in '97 having Babyface involved in your song in any capacity seemed like the rule, not the hip, left-field exception.
http://www.youtube.com/watch?v=L84MnrTa5-U
As for LL Cool J, did he have much street cred by the time of his appearance on Babyface's 1996 cover of Shalamar's "This Is for the Lover in You"? Granted, he wasn't starring on NCIS: Los Angeles back then or ending racism with Brad Paisley, but by '95 he was doing songs like "Hey Lover" with Boyz II Men. He seemed pretty "pop" by that point. You could say the same of Snoop Dogg by 2001, of course, but somehow his costarring role in "Baby's Mama" smells much more like a move by Arista, Babyface's label at the time, to market Face2Face to the hip-hop crowd.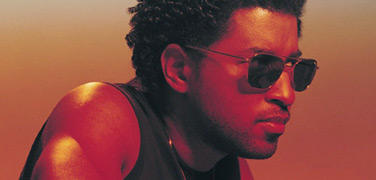 Mike: I think Face2Face was mostly about reinventing Babyface, irrespective of Snoop's participation. He was working with the Neptunes and making a conscious effort to update his sound. He even grew his hair out and started wearing muscle shirts, which made him resemble Lenny Kravitz.
I wouldn't disqualify the OutKast record on account of 'Face being their label boss. Hearing Babyface on a hip-hop song back in those days seemed pretty awkward since he was best known as a balladeer; I'd liken it to hearing Luther Vandross or Freddie Jackson on a rap record. Strangest of all, it worked.
Robert: And I can't imagine Luther or Freddie being able to sell a line like "If you really want to be my boo, straighten up your shit" without people giggling, but Babyface manages to pull it off.
I also like that "Baby's Mama" is about something. The subject matter reminds me of Sly Stone's "Crossword Puzzle" (1975): "Woman has a baby, cute / Illegitimate to boot / Who can say it isn't right? / Love shines a different light … / How can you wish her pain / 'Cause she has a maiden name?"
But now I'm wondering if the song was originally written for John Singleton's movie Baby Boy, which came out a few months before Face2Face was released (on 9/11, no less) and stars Tyrese as a character not unlike the one 'Face and Snoop are talking about in "Baby's Mama." Snoop also stars in Baby Boy and appears on three songs on the soundtrack album.
Mike: Interesting thing to ponder.
Robert: And if you're going to be in New York City on Saturday, May 11, how about pondering a visit to the Theater at Madison Square Garden, where Babyface will be performing a special Mother's Day weekend concert with his fellow pioneers of new jack swing, Guy. If you thought that crude segue of mine was entertaining, wait till you hear Babyface and Teddy Riley singing all your favorite R&B hits of the '80s and '90s! And if you somehow manage to score a backstage pass, please send Jeff, Mike, and I any war stories you happen to overhear about what it was like working with Bobby Brown back in the day. Happy Mother's Day, everyone!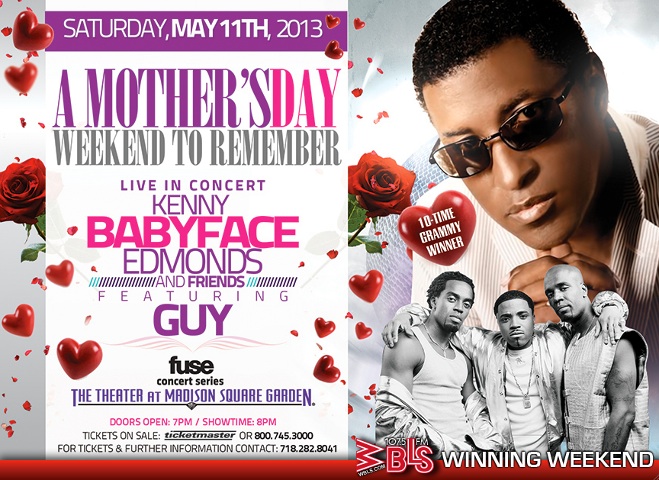 For an in-depth look at Kenneth Edmonds's discography as a solo artist, see Mike and Jeff's Popdose Guide to Babyface.