Babyface turns 30 this year. Sure, the Man Who Would Be Babyface — Kenneth Edmonds — was born in 1959, but the singer, songwriter, producer, and all-around hit maker extraordinaire began taking baby steps up the Billboard charts the year Michael Jackson's Thriller dominated every chart. Join Robert Cass, Jeff Giles, and Mike Heyliger as they take a look back at the first three decades of Babyface's career, with various detours along the stream of consciousness.
"Personality" by Dynasty [Amazon] (written by Kenneth "Babyface" Edmonds, Dwayne Ladd, and Antonio "L.A." Reid; produced by Edmonds and Reid; from Daydreamin', 1986)
Robert: Jheri Curl Fridays is back! Well, not really, but once you hear Dynasty's 1986 sound and see its 1986 hair, you'll understand why we saved this week's installment of 'Face Time for the end of the workweek. What, you think we're making excuses for missing our regular Monday deadline? How dare you — this baby is no accident! (You try researching Dynasty's fifth album in a timely fashion. It's almost as obscure as that Nightliners song we covered last month.)
We now join our pre-Mother's Day installment, still in progress for God knows what reason …
Mike: I can't believe we aren't going to the Babyface and Guy Mother's Day show together. I'm angry at you guys.
Jeff: Don't be like that, baby.
Mike: I was gonna get my weave all fixed up too. Pshhh …
Jeff: You want a back rub?
Mike: Rub my feet.
Jeff: Maybe a trip to the mall instead.
Mike: Ooh, whatchoo gonna buy me?
Jeff: God, what do they even sell at malls anymore? Can I still get an Orange Julius?
Mike: I can't drink no damn Orange Julius!!! You better take me to Red Lobster.
Robert: Cool it now, mall rats! We have to discuss "Personality," which was clearly influenced by New Edition's 1984 hit. And its prechorus melody is almost identical to that of Deniece Williams's own hit from '84, "Let's Hear It for the Boy." Is the song's title supposed to be ironic? In spite of the identity crisis, "Personality" was apparently the first published song credited to Babyface and L.A. Reid as writing-and-producing partners (cowriter Dwayne Ladd also penned the Whispers' "Rock Steady" with the duo alongside Midnight Star keyboardist-vocalist Bo Watson).
Mike: Definitely has elements of both songs you mentioned. It's an inoffensive, bouncy tune — very indicative of early LaFace — that would've fit perfectly on Tender Lover.
Robert: You think so? I like "Personality" just fine, but it lacks the sophistication of Tender Lover's best tracks. I think "Tell Me (Do U Want My Love)," a single that Babyface and L.A. Reid produced for Out of Control (1988), Dynasty's kinda sorta follow-up to Daydreamin', comes closer to hitting that mark:
http://www.youtube.com/watch?v=_dgvDFE3dPM
Out of Control shares three tracks with Daydreamin' — "Cherry Red Bikini," "Way Out," and "Tuff Love" — as well as the exact same cover art as its predecessor, hence my use of "kinda sorta." I don't think I've ever seen that kind of recycling before. Dick Griffey's SOLAR (Sound of Los Angeles Records) label couldn't have been broke by '88, could it? Not with "Rock Steady" hitting the top ten on the pop chart the year before, and Tender Lover and Calloway's "I Wanna Be Rich" still waiting in the wings … right?
Mike: Maybe they thought no one realized the previous album came out? I'll have to look at my copy of Dynasty's Greatest Hits to see what it says about Daydreamin'.
Robert: Never mind.
Jeff: I'd never even heard of Dynasty before now. A greatest-hits record, you say? Way to repurpose the catalog, SOLAR!
I kind of love "Personality." It's so very, very synthy in that uniquely mid-'80s way, with all kinds of random bleeping and blooping going on to cover up the song's basic blandness. Nice, sunny harmonies on the chorus, and it sticks in your brain just enough to make you feel like you might want to hear it again, but it's light enough to dissolve as soon as it's finished playing, sort of like a musical Cheeto.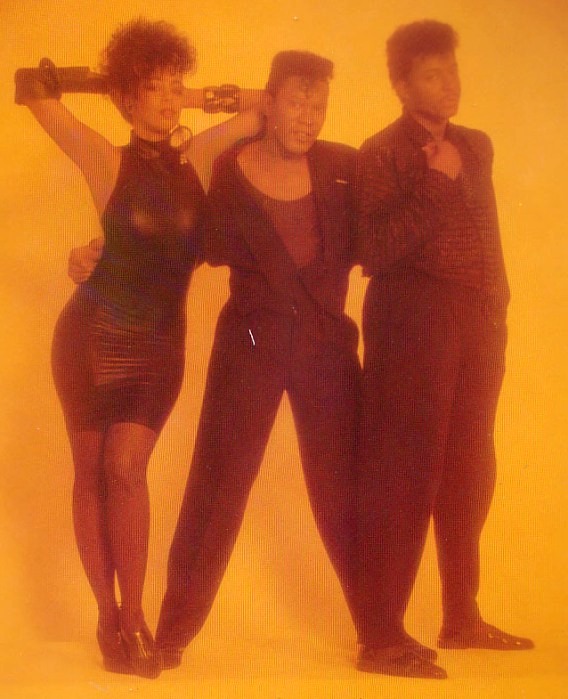 Other things I want to point out: 1) the awkward midsong rap; 2) the totally unnecessary, David Foster-esque synth crash-'n'-tumble at the three-minute mark; and 3) the fact that it's over four and a half minutes long. L.A. and 'Face hadn't figured out songwriting economy yet.
Robert: The midsong rap is another steal from "Cool It Now." 'Face and L.A. also weren't confident yet in their own personalities as writer-producers for hire, though "Rock Steady" is proof that they got over their self-doubt pretty quickly.
Mike: These are the puffy Cheetos, I assume, and not the crunchy ones?
I'll send you guys Greatest Hits. Dynasty had a few great late-'70s, early-'80s dance songs. They were contemporaries of Shalamar that never became anywhere near as big.
On a related note, I am now seriously jonesing for some puffy Cheetos.
Jeff: Hell yeah. Although I prefer crunchy.
Mike: Also related: my cat loves puffy Cheetos and Cheez Doodles.
Jeff: Something tells me Mike's about to shift from Dynasty to Ben Harper or Dave Matthews Band.
Mike: You'd have to pay me to get me to listen to Ben Harper.
Jeff: Good man. I've seen him live a couple of times and it was unbelievably boring. I think I may have died and come back to life during one of his sets at the H.O.R.D.E. festival.
Mike: Amazing — 30 seconds ago I got an e-mail from JamBase asking me whether I wanted to buy Ben Harper's new album. STOP FUCKING WITH ME, JEFF.
Jeff: I think the universe wants you to burn one down, Mike.
Mike: I'm pretty sure I've seen him live at least once. Might've even been as a DMB opener. But I've seen Dave Matthews 11 times, so they kinda blend together after a while.
Jeff: It's all one big hacky sack.
Mike: [laughs] I can't say I haven't seen my fair share of hacky sacks.
Jeff: So we've gone from Italian suits and keytars to hacky sacks and patchouli in the space of, what, ten e-mails? I love you guys.
Mike: I said nothing about patchouli.
Jeff: You can't have DMB or Ben Harper without patchouli, Mike. You just can't.
Mike: I can safely say that, unlike with hacky sacks, I have never personally done or experienced anything patchouli related.
Jeff: I refuse to believe you've avoided smelling patchouli at 11 Dave Matthews Band concerts. It's unpossible.
Mike: If I have, it's been overwhelmed by the smell of pot. And vomit.
Robert: Geez, I walk away for a few minutes and suddenly you're both stoned. And now you've got the munchies, except Mike's sharing his half of the econo-size Cheetos bag with his cat.
Like Jeff, I'm surprised that Dynasty has a greatest-hits album. Then again, they did release five albums between 1979 and '86, and didn't we agree back in March that four or five albums is the standard cut-off point for a best-of compilation? Unfortunately, the Dynasty Greatest Hits CD that the Right Stuff, Capitol's R&B reissue imprint, released in 2003 pretends that Daydreamin' was nothing but a dream — not only are none of its tracks included, but the liner notes by David Nathan, "a.k.a. British Ambassador of Soul," claim that the group took five years off after completing its 1982 album Right Back at Cha!, then "re-formed to work on the album Right Back Atcha [sic] using the services of a number of hot producers of the day including former Deele members L.A. Reid and Babyface and Joyce 'Fenderella' Irby of Klymaxx."
The second mention of Right Back at Cha! is obviously a mistake on either Nathan's part or that of the daydreamin' proofreader at the Right Stuff, but that doesn't explain why Dynasty's 1986 LP has been given the shaft. But guess which writer-producer-performers received one of their first major songwriting credits on Right Back at Cha! the year before Babyface got his own foot in the door at SOLAR with Midnight Star's "Slow Jam"? Jimmy Jam and Terry Lewis, courtesy of "The Only One."
Mike: This is why whatever we call our Jam & Lewis series is gonna be awesome. And now for some classic Dynasty …
Robert: SOLAR really was a family affair. As Mike said, Dynasty was similar to Shalamar in that it was initially a trio, except that Shalamar started out as a concept, not an actual group, that could help Soul Train Records move product: lead singer Gary Mumford was accompanied by anonymous studio vocalists on the Motown medley "Uptown Festival" (1977). Soul Train creator Don Cornelius didn't think there was much gas left in Shalamar's tank after that, even after the studio vocalists were replaced with Jody Watley and Jeffrey Daniels, who'd become popular as dancers on the show, so in 1978 he left the label to its cofounder, Dick Griffey, Soul Train's former booking agent, at which point Soul Train Records modified its logo and became known as SOLAR.
Mumford didn't stick around for long — wouldn't it be great if he ran a family-owned business these days called, say, Mumford & Sons Domestic Auto Repair? — so Griffey replaced him with ex-Soul Train Gang singer Gerald Brown, who completed one album, 1978's Disco Gardens, before leaving over a financial dispute with Griffey, though if you ask me, being asked to sing alongside Watley and Daniels, who weren't hired for their singing abilities, couldn't have helped. (Auto-Tune was invented for performers like Watley.) Shalamar's revolving door paused long enough for the group to record five albums with Howard Hewett as lead vocalist from '79 to '83, and it was this "classic" lineup that scored a big hit right out of the gate (#1 R&B, #8 pop) with "The Second Time Around."
What does any of this have to do with Dynasty, you ask? (If you were to ask "What the hell is your point, trivia nerd?" that'd be okay too.) "The Second Time Around" was written by William Shelby and Leon Sylvers III, the latter of whom put Dynasty together with Dick Griffey in the late '70s and produced their first four albums. As the Sylvers, Leon and eight of his siblings recorded the number one hit "Boogie Fever" in 1975. He also wrote "Misdemeanor" two years earlier for his little brother Foster, who played bass on Dynasty's pre-'86 albums and coproduced several tracks, and in addition to 1979's "The Second Time Around," Leon and Shelby cowrote (with Stephen Shockley) the Whispers' hit "And the Beat Goes On" (#1 R&B, #19 pop) that same year.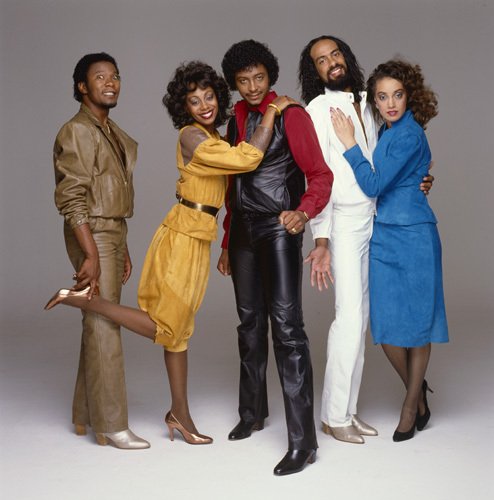 For Dynasty's third album, The Second Adventure (1981), Sylvers and Shelby joined the official lineup, which had originally consisted of vocalists Nidra Beard and Linda Carriere and vocalist-keyboardist Kevin Spencer, all of whom wrote songs for the group. (The album's lead-off track, "Here I Am," was written by Beard and Shelby with Melvin Gentry and Belinda Lipscomb, two members of Midnight Star, another example of SOLAR keeping it all in the family.) When Beard married Sylvers in '81 she took his name, and although I'm not sure when they divorced, the fact that she's credited solely as "Nidra" on the back cover of Daydreamin' provides a hint as to the status of their relationship by '86. Sylvers and Carriere left the group after Right Back at Cha!, but Sylvers is credited on the back of Daydreamin' with cowriting the closing song, "Lock on Love," with Shelby and Shockley, and playing bass (on that track, at the very least). According to an informed customer review at Amazon, it's the most traditional-sounding Dynasty cut on the album, which may mean it was recorded earlier in the decade.
Mike: I wouldn't cast so much doubt on Jody Watley's singing abilities — I saw her live six or seven years ago, and she's quite the capable vocalist. She's not a screaming Aretha powerhouse, but she's damn good. Not a problem staying in tune at all.
Robert: Maybe now, but she was flatter than a pancake on some of those old Shalamar hits, and not the kind of pancake that's stuffed with cream cheese. Because those aren't really flat. They're just deadly.
Mike: Mmm … pancakes.
For an in-depth look at Kenneth Edmonds's discography as a solo artist, see Mike and Jeff's Popdose Guide to Babyface.